This site is operated by Mongoose Atlantic Inc as a promotional vehicle for select advertisers.
It does not constitute an endorsement by NEWSWEEK and no endorsement is implied.

1st Apr, 2009 | Source : American Camp Association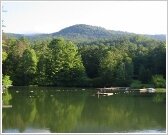 How can parents count the ways children grow and flourish at camp? Friends? New skills? Displays of self-confidence? Steps toward independence and thoughtfulness?
Philliber Research Associates teaming with the American Camp Association has just released the results of a landmark study that demonstrate the gains are remarkable - over 5,000 parents, children, and camp staff are readjusting their measuring sticks-growth in positive identity, social skills, physical and thinking skills, as well as the important areas of positive values and spirituality go hand-in-hand with the camp experience.
According to Peg Smith, chief executive officer of the American Camp Association, outcomes are all about research and responsibility. "These concepts of independence and discovery come into play every day as we look at ways to enhance the growth and discovery process in youth. Our research demonstrates unequivocally that with the idea behind camp and the thousands of individuals who support children in these experiences, we are unmistakably on the right track. One of the truly exciting aspects of this research is these measurable gains continue after camp ends, and the researchers confirm that length of camp session isn't a determining factor - it's camp itself," says Smith.
Read more


1st Apr, 2009 | Source : Dr. Christopher Thurber
Wow! What an amazing opportunity you have to help your child grow! Only camp can promote your child's development by providing fun, friendship, and leadership in a supportive community away from home. Parents have known this for nearly 150 years, but only now can they hold in their hands so much valuable information about camp. The American…
Read more

1st Apr, 2009 | Source : Dr. Robin Schader, National Association for Gifted Children
What's the best way for your child to spend an enjoyable and satisfying summer? Just ask them. At the National Association for Gifted Children (NAGC), we find that children are able to best develop their potential in an environment that offers experiences suited to individual needs. That's why it's worth searching for a proper fit. It's obvious…
Read more

Posted by
rose
on 21st Dec 2011 05:31
summer camp 2012
need kid to practise english with non-spanish speakers moreover a good offer
Posted by
teresa collins
on 28th Jun 2011 12:06
looking for an inexpensive or financial assitance camp for my daughter. we live in north carolina,..