This site is operated by Mongoose Atlantic Inc as a promotional vehicle for select advertisers.
It does not constitute an endorsement by NEWSWEEK and no endorsement is implied.


21st May, 2009 | Source : Newsweek Showcase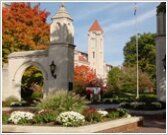 Anyone who might be thinking of Indiana as their retirement destination will immediately discover that there are a surprising number of very hospitable and affordable small towns spread across the state that are worth considering as places to retire. This fact is especially true for anyone who enjoys a four season climate, scenic farmland and the fun and excitement of big time college football weekends on bright autumn Saturday afternoons.
Lafayette, South Bend and Bloomington are just a few of the college towns that one might mention as being both affordable and packed with things to do. South Bend, and its smaller neighbor, Mishawaka, provide a setting that is rich in history and tradition, especially for anyone who relishes the pageantry and excitement of Notre Dame football. Also, retirees who enjoy spending their leisure time outdoors will find ample opportunities for hiking, biking, canoeing, cross-country skiing and a host of other sporting activities, including whitewater rafting.
Lafayette-West Lafayette, with a combined population of about 150,000 people, is consistently rated as one of the overall best places to live in the United States. With beautiful turn-of-the century architecture, historic neighborhoods and inviting public areas, this locale has been said to be a historian's dream. Home to Purdue University, it has a distinct "college-town" feel with an interesting collection of retail shops, restaurants and community festivities. Like many towns in Indiana, it is rated as one of the country's safest places to live, as well being among the more affordable.
Read more