This site is operated by Mongoose Atlantic Inc as a promotional vehicle for select advertisers.
It does not constitute an endorsement by NEWSWEEK and no endorsement is implied.


21st May, 2009 | Source : Newsweek Showcase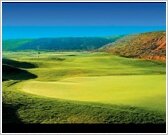 To some, Utah may seem like a remote and desolate area, one that might not be considered as a likely retirement destination. However, for those looking for an affordable and crime-free place to retire, it has a certain appeal, and several of its smaller cities and towns have become extremely popular retirement choices for a growing number of seniors from other western and mid-western states.
One of these towns, St. George, has attracted a great deal of national attention, having recently been named by AARP as one of five "dream towns" for retirement living.
This desert playground, located in the southern part of the state near the Arizona and Nevada borders, is one of the ten fastest growing spots for people over 60 years old. It offers tremendous opportunities for a myriad of outdoor activities, including hiking and biking the red rock cliffs surrounding the town.
Read more