This site is operated by Mongoose Atlantic Inc as a promotional vehicle for select advertisers.
It does not constitute an endorsement by NEWSWEEK and no endorsement is implied.


21st May, 2009 | Source : Newsweek Showcase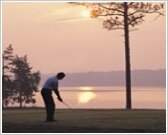 Oyster roasts and Frogmore stew are just some of the diverse culinary treats that await newcomers to the Low Country of South Carolina. Retirees moving to this unique region to live along its challenging fairways and on its sandy beaches find themselves immersed in a culture quite unlike anything they have encountered back home in the Mid-west or East. With a sense of tradition and heritage lingering from the Old South and spurred by a surge of golf course communities and resort developments, South Carolina's coastal region presents a lifestyle and quality of life that is both hospitable and full of opportunities for fun and adventure.
Extending from the Grand Strand surrounding Myrtle Beach southward to Charleston and beyond to Beaufort and Hilton Head, this is one of the most popular and fastest growing retirement areas in the entire country.
Vacationers, long attracted to Myrtle Beach for its beautiful, wide beaches and its more than 100 public golf courses, have, in recent years, are now returning to retire here, and now, as prices climb for prime real estate, developers of new retirement communities are pushing further inland to a number of smaller towns, heretofore by-passed as retirement destinations.
Read more