This site is operated by Mongoose Atlantic Inc as a promotional vehicle for select advertisers.
It does not constitute an endorsement by NEWSWEEK and no endorsement is implied.


21st May, 2009 | Source : Newsweek Showcase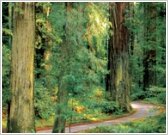 Truly, California is the Golden State, and it literally has something for almost anyone seeking a retirement destination…miles of dramatic Pacific shoreline, majestic snowcapped mountains, acres of pristine wilderness, some of the most challenging golf courses in the world, cities with a diverse mix of cultures and entertainment venues or a myriad of picturesque, charming small towns sprinkled across its varied terrain. For many, the task of selecting one's retirement spot can be almost overwhelming.
Confronted with this variety of climates, geography and cultures; retirees, especially those from out-of-state, find this litany of options more than they can readily absorb. Then, of course, there is the issue of the high cost of housing which exists in most of California. Many retirees just assume that there are no longer any affordable places to live here and arbitrarily elect to focus their search in some other place. However, while it certainly helps if one is fortunate enough not to be overly concerned about the cost of their retirement home, the truth is that there are, in fact, a number of affordable retirement options still available. One just has to sift through a mountain of information and concentrate on finding just where those properties are located.
Read more