This site is operated by Mongoose Atlantic Inc as a promotional vehicle for select advertisers.
It does not constitute an endorsement by NEWSWEEK and no endorsement is implied.


21st May, 2009 | Source : Newsweek Showcase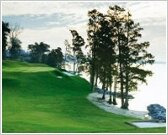 In view of the fact that people today are retiring at a younger age, it is not surprising that many of them stay active and involved by opting to live in a location with a nearby college or university in order to take advantage of cultural and educational opportunities which those institutions offer. And no other state has a more appealing array of small college towns than Virginia.
Perhaps most notable is Charlottesville, the picturesque pastoral setting for Thomas Jefferson's University of Virginia and a town cited by several sources as the best place to live in the country. Truly, this is a city where the residents are clearly devoted to the arts, literature and the love of learning, and its reputation for a high quality of life and cultural enrichment plays prominently in attracting retirees.
Notwithstanding the price of real estate, Charlottesville remains one of the more affordable places to live in the country. With a population of only 45,000 within the city limits, the city has a history of low unemployment, a reputation for an excellent education system and outstanding health care facilities. Add these factors to the rich beauty of the surrounding countryside and the opportunities for outdoor recreation and enjoyment, and the city's stature as a desirable place to retire is totally understandable.
Read more