This site is operated by Mongoose Atlantic Inc as a promotional vehicle for select advertisers.
It does not constitute an endorsement by NEWSWEEK and no endorsement is implied.


15th May, 2009 | Source : Diane Blum – Cancer Care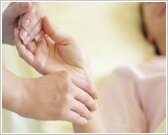 When a person is diagnosed with cancer, much of the focus, especially at the beginning, is on learning about what kind of cancer it is and what treatment options are available. Yet cancer is accompanied by a host of other, non-medical, emotional and practical concerns that may be more overwhelming than the diagnosis itself.
Since its inception nearly 65 years ago, CancerCare has helped millions of people confront the nonmedical challenges presented by a cancer diagnosis. A national nonprofit organization, CancerCare offers free support services to anyone in the U.S. affected by cancer. Our services, provided by a full-time staff of professional oncology social workers, include counseling, support groups, educational programs and publications, and referrals to additional assistance – and all are offered completely free of charge.
CancerCare is also one of fewer than a dozen U.S. organizations that provides direct financial assistance to people with cancer—which CancerCare has been doing since our founding in 1944. In the last year alone we distributed a total of $4 million to more than 21,000 people with cancer to help cover treatment-related costs like transportation, child care, home care, and medications for side effects. Often, this assistance makes a critical difference between getting to a treatment appointment – and not being able to afford getting there at all.
Read more


Posted by
J.D. Grozenflatz
on 27th Aug 2010 13:50
Tremendous Read
Yet again, Cancer Care delivers and unflinching gripping account, breaking down barriers and..