This site is operated by Mongoose Atlantic Inc as a promotional vehicle for select advertisers.
It does not constitute an endorsement by NEWSWEEK and no endorsement is implied.


21st May, 2009 | Source : Newsweek Showcase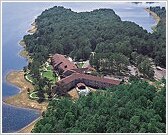 The scenic beauty of The Natural State appeals to travelers from all over the country. As a result, tourism is a major factor in the state's economy. Travel and tourism expenditures in Arkansas amount to over $3.9 billion each year, contributing over $300 million in state and local taxes. Annual visitation exceeds 19.9 million travelers, providing direct employment for some 57,600 Arkansans, with an additional 27,600 working in support services.
Among the state's greatest assets are its six national park sites, 2.6 million acres of national forest lands, 13 major lakes, and two mountain ranges. Scenic drives lead to breathtaking vistas in the Ozarks and the Ouachitas, more than 9,000 miles of streams and rivers provide incomparable canoeing and fishing opportunities, and over 16,000 publicly and privately owned campsites allow access to the outdoor world in every corner of the state.
Popular visitor destinations include Hot Springs National Park, one of the country's oldest and most visited parks; Eureka Springs, a resort since the 1880's; a water theme park—Wild River Country, and numerous restorations and museums, including Mid-America Science Museum, a "hands on" look at life, energy, matter, and perception. The Buffalo National River was the country's first national river park, and Blanchard Springs Caverns is the major cave find of the 20th century. The Great River Road links eastern Arkansas on a marked route that parallels the Mississippi.
Read more