This site is operated by Mongoose Atlantic Inc as a promotional vehicle for select advertisers.
It does not constitute an endorsement by NEWSWEEK and no endorsement is implied.


6th Apr, 2009 | Source : Wikipedia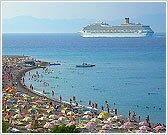 A cruise ship, or less commonly cruise liner or luxury liner, is a passenger ship used for pleasure voyages, where the voyage itself and the amenities of the ship are considered an essential part of the experience.
Cruising has become a major part of the tourism industry, with millions of passengers each year as of 2006. The rapid growth of the industry has seen nine or more new-build ships catering to a North American clientele added every year since 2001.
The practice grew gradually out of the transatlantic crossing tradition, which despite the best efforts of engineers and sailors into the mid-20th century, rarely took less than about four days. In the competition for passengers, ocean liners added many luxuries - most famously seen in the Titanic, but also available in other ships - fine dining, well-appointed staterooms, and so forth.
In the late 19th century, Albert Ballin, director of the Hamburg-America Line, was the first to make a regular practice of sending his transatlantic ships out on long southern cruises during the worst of the winter season of the North Atlantic. cruising.
Read more


Posted by
Pep
on 27th Jan 2010 13:00
Very interesting...
Royal Caribbean International ship Mariner of the Seas consume 20,000 pounds of beef, 28,000 eggs,..
Posted by
Brenda
on 21st Aug 2009 14:14
ms
What about private yacht charters? I've had several sailing vacations with Sunsail (you can..