This site is operated by Mongoose Atlantic Inc as a promotional vehicle for select advertisers.
It does not constitute an endorsement by NEWSWEEK and no endorsement is implied.


21st May, 2009 | Source : Newsweek Showcase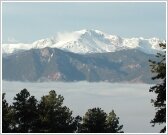 If biking and hiking through beautiful mountain meadows or just sitting and watching majestic summer sunsets fit into your retirement plans, Colorado may just the place for you. Of course, you may have to endure some pretty deep snows and cold winter winds, but, for many, this is a small price to pay in order to live in some of the most spectacular outdoor scenery in the nation, as well as experiencing a lifestyle that is both exciting and invigorating.
While Denver, the capital and largest city, is the state's economic and financial hub, it is the smaller cities and towns scattered across Colorado that seem to be most attractive as places to retire. In the foothills of the Rocky Mountains, just 35 miles northwest of Denver, Boulder is an alluring mountain community enhanced by spectacular natural beauty, an energy-filled urban lifestyle and a vibrant appreciation of the outdoors. This captivating of city of 100,000, in addition to being the home of the University of Colorado, is a center of commerce and scientific research.
With more than 200 miles of serene hiking and biking trails, 30,000 acres of unspoiled open space nearby, it is easy to understand why residents embrace an outdoor lifestyle. This is a place where kayakers paddle through the middle of town and rock climbers, bicyclers and fly-fishermen congregate, a fact which has resulted in Boulder's being designated as the "No. 1 Sports Town in America." Adding to this distinction as a very special place to live is a year-round schedule of artistic and cultural events, including an annual Shakespeare Festival and the Boulder International Film Festival.
Read more