This site is operated by Mongoose Atlantic Inc as a promotional vehicle for select advertisers.
It does not constitute an endorsement by NEWSWEEK and no endorsement is implied.


21st May, 2009 | Source : Newsweek Showcase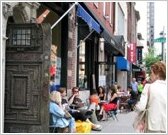 A number of cities and towns in Pennsylvania keep appearing on various lists of best places to retire in America, and it would take more space than is available in this narrative to discuss them all. However, it is safe to say that if you are one of the new breed of retirees contemplating the concept of "downtown retirement," Pennsylvania offers a wealth of options.
Its major cities, notably Philadelphia and Pittsburgh, have undertaken aggressive programs to re-energize and revitalize their core urban centers and, thus, have made their downtown areas much more livable, with the result that both young professionals and youthful, active retirees are being attracted by the surge of new condos and loft apartments that have sprung up in these locations.
In Pittsburgh's trendy Downtown district, upscale living comes with a package of amenities designed to appeal to empty nesters ready to forsake the big house and yard in the suburbs for the convenience of being near restaurants, theaters and shops. But such a lifestyle may carry a price tag that is beyond the reach of the average retiree, with most condos beginning at $200,000 plus.
Read more