This site is operated by Mongoose Atlantic Inc as a promotional vehicle for select advertisers.
It does not constitute an endorsement by NEWSWEEK and no endorsement is implied.


21st May, 2009 | Source : Newsweek Showcase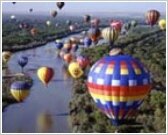 For an ever increasing number of active retirees, New Mexico, with its abundant sunshine, low humidity, spectacular scenery and high mountains, is clearly an enchanting place to live. Newcomers from across the U.S. have discovered that the allure and excitement of such cities as Santa Fe, Albuquerque, Las Cruces and numerous small towns across the state affords a unique lifestyle and an energizing environment in which to embark on their retirement years.
While real estate prices in Santa Fe place the cost of housing here beyond the reach of many retirees, for those who can afford it, this city of approximately 65,000 provides its residents with a sense of social diversity and one of the most entertaining cultural and arts scenes to be found anywhere in the country. One example of this wealth of cultural activity is the awe-inspiring Santa Fe Opera House, an outdoor amphitheatre that serves as a summer oasis for internationally acclaimed operatic talents and opera enthusiasts.
Outdoor enthusiasts quickly become enthralled with the wide array of recreational opportunities that await them. The surrounding countryside offers an abundance of trails and streams for hiking, camping and fishing. And the outdoor excitement continues throughout the winter, with five major ski resorts, including Taos, within ninety miles of downtown Santa Fe.
Read more