This site is operated by Mongoose Atlantic Inc as a promotional vehicle for select advertisers.
It does not constitute an endorsement by NEWSWEEK and no endorsement is implied.


21st May, 2009 | Source : Newsweek Showcase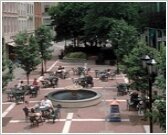 New Yorkers desiring to spend their retirement years in their native state, especially those dreaming of a small, picturesque village in a scenic setting, are fortunate in that they perhaps have more options available to them in New York than in any other state. Granted, there are some qualifications about winter weather, and the number of new residential golf course resorts is somewhat limited compared to what one will find in Florida or the Carolinas. But if an idyllic, nostalgic glimpse of the historic American village defines your image of the perfect retirement spot, New York is definitely the right place to begin your search.
Residents of New York City need only travel a couple of hours up the Hudson River Valley and find several places like Cold Spring, a charming small town on the Hudson, just minutes from West Point. Complete with a historic waterfront, a Victorian band shell and spectacular river views, its Main Street is lined with antique shops, art galleries and restaurants. Outdoor lovers will find plenty to occupy their leisure time in the nearby mountains, which provide plenty of wooded trails for hiking and just roaming the scenic countryside. This original Hudson River town of about 2,800 people remains a robust and vibrant community and has been described as "overflowing with ageless elegance yet modern and fashionable enough for every generation."
Read more