This site is operated by Mongoose Atlantic Inc as a promotional vehicle for select advertisers.
It does not constitute an endorsement by NEWSWEEK and no endorsement is implied.


21st May, 2009 | Source : Newsweek Showcase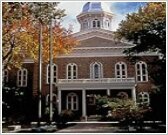 If Horace Greeley were alive today, his advice might well have been "Go West, Young Retiree." In view of the enthusiastic western migration of senior citizens who are heeding the call of Nevada's low taxes, warm climate, active adult lifestyle and competitive cost of living; Las Vegas and the surrounding area must be considered one of the most popular and fastest growing retirement destinations in the U.S.
Here, in this 24-hour town, more than twenty active adult and retirement communities have been developed with a varying menu of housing options, ranging from resort-style upscale communities to affordable manufactured home neighborhoods. Several are loaded with amenities like hiking and fitness trails, pools and saunas, tennis courts, golf courses, card rooms, ballrooms and more and offer luxurious executive level homes. Others are priced more modestly and designed to appeal to a broad spectrum of retirees from across the country.
Situated in the southern tip of Nevada, this entertainment and gambling mecca, along with nearby Henderson and other smaller communities in the desert basin lying between the Sierra Nevada and Wasatch mountain ranges is viewed by many seniors as the ideal retirement destination. The warm climate, with low humidity and sunny skies for 320 days a year is almost the perfect atmosphere in which to experience a relaxing and fun-filled retirement, one where world class golf, scenic outdoor venues and the water paradise of Lake Mead, with its 500 miles of shoreline are readily available.
Read more