This site is operated by Mongoose Atlantic Inc as a promotional vehicle for select advertisers.
It does not constitute an endorsement by NEWSWEEK and no endorsement is implied.


21st May, 2009 | Source : Newsweek Showcase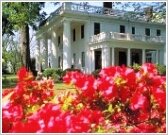 Georgia may not yet be high on your list of potential retirement choices. But then you may not realize the number of prestigious new golf course communities available in quaint and friendly small towns like Greensboro, Perry or Braselton... the inviting new and affordable neighborhoods in fishing villages like Brunswick or St. Mary's... or nestled throughout the lush foothills of the Appalachian Mountains of the northwest corner of the state, where there are some of the most spectacular golf courses and mountain retreats in the eastern U.S.
With a variety of temperate climates, a vibrant and dynamic economy and a world-class city that affords access to fashionable shopping, great restaurants, excellent medical facilities and airline service to every part of the globe, Georgia is rapidly gaining recognition as a great place to live and retire.
Retirees, having realized that there is a choice for almost any budget or lifestyle, are quickly raising the state's reputation as one of the country's favorite retirement destination.
Read more