This site is operated by Mongoose Atlantic Inc as a promotional vehicle for select advertisers.
It does not constitute an endorsement by NEWSWEEK and no endorsement is implied.


21st May, 2009 | Source : Newsweek Showcase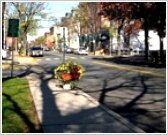 For non-Jerseyites who may be considering New Jersey as a retirement destination, let's go ahead and address the negatives on the front end. Yes, in case you haven't heard, this is an expensive place to live. With a cost of living that is significantly above the national average and property taxes that rank among the highest of almost any State, there are not, in all honestly, a lot of budget-minded retirees rushing to stake their claim to a retirement dream house in the Garden State.
But for those already familiar with the many attractive features to be found here, in spite of the economics, the advantages of retirement in New Jersey are deemed to be worth the extra expense. First, the cultural and entertainment attractions, urban amenities and overall lifestyle attitude that flows outward from New York City and Philadelphia, are, for some, just too compelling to ignore.
And perhaps just as much a factor in pulling retirees to remain in New Jersey is the realization that once you look beyond the industrial boundaries of cities like Newark and Trenton, quiet, scenic regions such as the Delaware Valley, Jersey Shore and Northern Highlands are replete with dozens of appealing and alluring small and villages that have much to offer for retirement living.
Read more