This site is operated by Mongoose Atlantic Inc as a promotional vehicle for select advertisers.
It does not constitute an endorsement by NEWSWEEK and no endorsement is implied.

8th Sep, 2010 | Source : American Association of Colleges of Nursing
Nursing is a dynamic profession that offers a variety of opportunities to provide direct patient care, conduct research, teach across settings, shape public policy, lead health systems, and practice in an increasing number of innovative ways. One new nursing role that is fast gaining traction in hospitals and health systems nationwide is the Clinical Nurse Leader (CNL).
Prepared at the master's level, CNLs oversee the care coordination for patients, assess risks, develop quality improvement strategies, facilitate team communication, and implement evidence-based solutions at the unit level. Practice sites nationwide are restructuring their systems to accommodate the CNL as a way to engage skilled clinicians in outcomes-based practice and systems redesign. In fact, the Veterans Health Administration, the nation's largest employer of registered nursing, is moving to introduce CNLs into all of its more than 1,400 medical centers by the year 2016.
Read more


6th Oct, 2009 | Source : American Association of Colleges of Nursing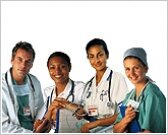 Congratulations on your decision to become a nurse! Despite the current downturn in the economy, the healthcare sector continues to add new jobs, including thousands of new opportunities for registered nurses (RNs). The sustained shortage of nurses has actually helped to bring some much needed changes to the profession, including higher salaries, better working conditions, and more…
Read more

4th Sep, 2009 | Source : American Association of Colleges of Nursing (AACN)
Faculty shortages at nursing schools across the country are limiting student capacity at a time when the need for professional registered nurses in the US workforce continues to grow. Federal authorities, healthcare leaders, nursing organizations, and other stakeholders all point to a shortage of faculty as a primary driver of the national nursing shortage.
Read more