This site is operated by Mongoose Atlantic Inc as a promotional vehicle for select advertisers.
It does not constitute an endorsement by NEWSWEEK and no endorsement is implied.



7th Apr, 2009 | Source : newsweekshowcase.com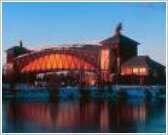 History
Founded in 1854 by land speculators, Omaha was incorporated as a city in 1897. Omaha, named after an American Indian Tribe, means "those going against the wind or current"- Access Genealogy Indian Tribal Records. Omahans continue to live up to the name.
Historic Sites
-Fort Omaha is best known as the site of the famous Trial of Chief Standing Bear, where Native Americans won the legal right of habeas corpus.
-Boys Town, the historic home for boys founded in 1917 by Father Flanagan and made famous by the 1938 movie starring Mickey Rooney, continues to serve as a premier refuge for abused, abandoned and neglected boys and girls.
- The Mormon Trail Center at Winter Quarters archives the journeys and hardships faced by the Mormon Pioneers who stopped in Omaha en route to Utah.
- The Gerald R. Ford Birth Site and Gardens is a memorial to our country's 38th President and First Lady. * The Malcolm X Birth Site is a memorial to the civil rights leader and his contributions to our country.
Read more