This site is operated by Mongoose Atlantic Inc as a promotional vehicle for select advertisers.
It does not constitute an endorsement by NEWSWEEK and no endorsement is implied.



7th Apr, 2009 | Source : newsweekshowcase.com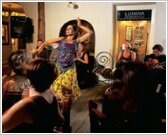 Experience Southwestern charm and history in this quintessential New Mexico inn located in the heart of Taos' historic district. Acclaimed by National Geographic Traveler as "One of America's Great Inns," and listed on the National and New Mexico Registers of Historic Places. Choose from 44 unique rooms and suites, most with seasonal pueblo-style fireplaces. Award-winning Doc Martin's Restaurant ("a legendary restaurant" Bon Appetit), and The Adobe Bar ("The social center of Taos" Travel and Leisure) on the premises.
Fondly called 'the living room of Taos' by locals and visitors alike, The Adobe Bar is the place to mingle. With local color and atmosphere drawn from the tri-cultural, historic, and artistic traditions of this unique community, The Adobe Bar complements our patrons with live musical entertainment every night of the week.
Often called the best performance venue in Northern New Mexico by jazz musicians and audiences alike, the bar also features flamenco, bluegrass, Americana, alt-country, gospel, Celtic, world and native folk music. Open Mic on Monday nights brings the hidden talent out of this creative town.
Read more


Posted by
James Price
on 2nd Nov 2010 13:47
A treasure in Taos!
This hotel is the perfect package in Taos. Superb foods and wines at Doc Martins Restaurant,..
Posted by
jordan
on 15th Feb 2010 10:39
taos inn
the taos inn is a really cool and unique hotel located in a historic part of town. my favorite thing..
Featured
New Mexico
Participating Companies



List all Participating Companies