This site is operated by Mongoose Atlantic Inc as a promotional vehicle for select advertisers.
It does not constitute an endorsement by NEWSWEEK and no endorsement is implied.


7th Apr, 2009 | Source : newsweekshowcase.com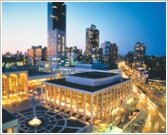 Take a Bite of the Big Apple
Visitors to New York City will experience the time of their lives with an extraordinary array of attractions, activities, museums, performing arts, restaurants, shops and endless events to enjoy year-round.
Only in New York
A trip to the Big Apple should begin with seeing the legendary sights. Hop on the free Staten Island Ferry from where you can wave to the original Miss America herself, the Statue of Liberty. While downtown, view the majestic Brooklyn Bridge, and if time allows take a stroll across just like millions of people do each year. Souvenir shopping is nearby at the South Street Seaport, and just a short distance away are two of New York City's most notable neighborhoods--Chinatown and Little Italy. Wander a little bit to the east and end up in fashionable SoHo and trendy TriBeCa.
In Midtown Manhattan you'll encounter Grand Central Terminal, the United Nations, Rockefeller Center, Times Square, the Theater District and other popular points of interest. Venture north and discover Central Park, the Upper East Side and the Upper West Side. The stretch of Fifth Avenue between 72nd and 104th Streets, known as Museum Mile, has an astonishing number of world-class institutions such as the Metropolitan Museum of Art and the Solomon R. Guggenheim Museum. Take the A train to Harlem, a Mecca for African-American culture for more than a century. Don't miss the Apollo Theater, Studio Museum in Harlem, Lenox Lounge and Sylvia's Soul Food Restaurant.
Read more