Louisiana - Real Estate
Move to Louisiana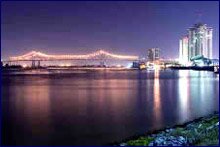 Known for its plantation homes along the bayous and multi-ethnic cuisines, Louisiana is a truly unique and hospitable state. Littered with architecturally grand homes and buildings, the history and culture draws people from all over the world. Louisiana is seeped in culture and tradition with a mix of Creole, Cajun and French. Here you'll find authentic cuisine that just cannot be duplicated like gumbo, andouille sausage, etouffees, sauce piquantes and crawfish and music genres that include jazz, blues and zydeco. Louisiana's low cost and beautiful real estate welcomes new residents with open arms and southern charm.
Due to the devastation of Hurricane Katrina, Louisiana's housing marketing is steadily being rebuilt. Here you'll find a comfortable cost of living at 11% below the national average with a median home price of around $108,000 and 3 personal income tax brackets, ranging from 2% to 6%.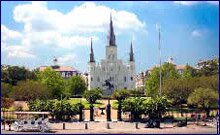 Louisiana is a great place for families and retirees, with the beautiful weather, rich culture and great prices, it's hard to turn down. Much of the architecture here is strongly influenced in Spanish and French styles. A variety of real estate choices are available including: Single Family, Master-planned Communities, New Developments, Golf Course Communities, Plantation Homes, pre-Civil War Rural Properties, Investment Properties, Waterfront, Retirement, Active Adult, Assisted Living, Town Homes & Condominiums and Lots & Land.
The leading industries of Louisiana's economy include tourism, natural gas, petroleum, seafood, cotton, soybeans and rice. The annual Mardi Gras celebration and French Quarter in New Orleans is a big draw for tourists.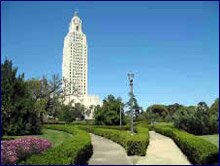 Once a year, one of the biggest celebrations in the US is located in Louisiana, the infamous Mardi Gras celebration. Located in the historic French Quarter, the New Orleans Carnival season kicks off on January 6th (Twelfth Night) with parades, balls and king cake parties. In Shreveport, spend a day at the races or on a riverboat casino. There is a wide array of unique restaurants, shops and historical sites in all cities, large or small. If you prefer to visit America's past and visit the historic and unique architecture and sites around the state, you'll find places like the forts and battlegrounds of the Civil War, museums, walking tours and historical centers. Outdoor adventures such as hunting, fishing, bird-watching and golfing round out many of the activities anyone can enjoy while residing in this beautiful state.
Louisiana's weather is warm and humid almost throughout the year. During the spring, residents enjoy warm days and cool nights; in the winter the average temperature is around 40 degrees and snow is a rarity. Summers are usually peppered with rain, the state experiences around 60 days of thunderstorms a year. The landscape of Louisiana is truly unique, complete with bayous, lagoons, marshes, rolling hills and prairies. The surface of the state may properly be divided into two parts, the uplands and the alluvial, coast and swamp regions.
To learn more about specific communities in Louisiana, request a Free Relocation Packet prepared by a HomeRoute Preferred™ local community expert. This exclusive guide will be customized to your specific home search and help you prepare for your upcoming move to Louisiana.
Information provided courtesy of HomeRoute.