Virginia - Real Estate
Move to Virginia
There is no shortage of reasons to live in Virginia; from its rich history to the trendy cultural districts, this state has everything for those looking to move to a warm and beautiful state. Home to some of the nation's leading universities, Virginia attracts young people and families looking for a quality education and thriving economy. Residents are able to choose from rural countryside to sprawling suburbs; either way, you'll have some of the best views of America's scenery.
Virginia's cost of living is at the national average and the median home price is $210,000. With its close proximity to major cities such as Washington DC, some areas tend to be much higher. Personal income tax in Virginia spans five income brackets ranging from 3.0% to 5.75%.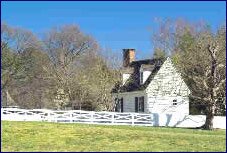 Because of Virginia's diverse landscape you have a choice from rural mountain property to a historic townhouse. Housing choices include: new builds, waterfront property, golf course communities, historic homes, horse and cattle ranches and much more. Many residents enjoy resort homes along the Atlantic or a peaceful cottage in one of its small rural towns. Virginia is also home to a few military bases where families can live in beautiful tree-lined neighborhoods.
Service retail and manufacturing are the leading industries in Virginia. Here you'll find sectors that include communications, consulting, defense contracts, electronics, textiles, lumber, furniture, cattle, tobacco and mining. The state has seen significant economic growth in the past decade. With Washington DC on the border of northern Virginia, the US Government also plays an important factor in job growth and stability.
Although Virginia is known for George Washington's home at Mt. Vernon, Thomas Jefferson's home at Monticello and Colonial Williamsburg, it is as rich in activities, sites and culture as the state's history. From the sandy beaches on the eastern coast to Shenandoah National Park in the north, indoors or out, there's something for everyone. For the outdoor enthusiast, there are 35 state parks for activities including hiking, biking, fishing and canoeing, year-round golfing at one of the many premier courses, or skiing at a mountain resort. Enjoy a quiet weekend exploring the historic sites, museums and exhibits and make sure to indulge yourself at any of the shopping centers, boutiques, antique shops and much more.
Divided into five regions, Virginia's climate is considerably warm and humid year-round, with occasional thunderstorms and torrential showers. Mountainous regions, sandy beaches and lush forests cover Virginia's landscape as well as farmland, suburbs and urban cities. Here you'll find the exquisite Luray Caverns, extending from the Blue Ridge to the Massanutten Mountains. The beautiful beaches in Virginia Beach and natural attractions include the Shenandoah National Park, Luray Caverns and the Blue Ridge National Parkway. Make sure to see the stunning Blue Ridge Mountains, which viewed from afar, take on a glowing blue; there is no shortage of fantastic scenery.
To learn more about specific communities in Virginia, request a Free Relocation Packet prepared by a HomeRoute Preferred™ local community expert. This exclusive guide will be customized to your specific home search and help you prepare for your upcoming move to Virginia.
Information provided courtesy of HomeRoute.