Iowa - Real Estate
Move to Iowa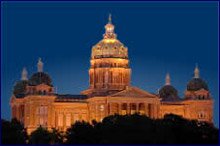 With almost 3 million residents, Iowa is consistently rated high on lists of the best places to live in the United States. From fascinating museums and historic sites to theme parks and art galleries, Iowa offers a wide variety of attractions. You may recognize (from movies like Field of Dreams and The Bridges of Madison County) the rolling prairies, rich farmland and gorgeous views. Iowa is bordered by Minnesota on the north; Nebraska and South Dakota on the west; Missouri on the south; and Wisconsin and Illinois on the east.
Coveted for its safe neighborhoods, low costs of living, short commutes and high student standards, Iowa is the perfect place to live and raise a family. Iowa's high housing standards and relatively larger homes at lower costs mean residents receive more for their money. The state's median home price at $163,000, below the national average. Des Moines is higher at $250,000, Iowa City sits around $206,000, Sioux City is slightly lower at $184,000 and Dubuque has a median of $190,000.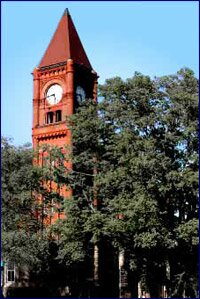 Iowa remains a state composed mostly of farms and small towns, with a limited number of larger cities. Iowa is still a place where most people live stable, comfortable lives, where family relationships are strong and where the quality of life is high. It also has the sixth shortest commute time, leaving residents more time to spend with family and their hobbies. Old farmhouses are available in more rural areas, while single family homes, condominiums and townhomes are also available in bigger cities.
Agriculture is a major part of Iowa's economy. Iowa is among the largest producer of corn, soybeans, oats, hay, wheat, and barley in the U.S. Although farming is the primary industry in Iowa, the business environment is expanding to include biosciences, advanced manufacturing, technology and financial services. Iowa also produces the nation's largest amount of ethanol. Des Moines also serves as a center for the insurance industry.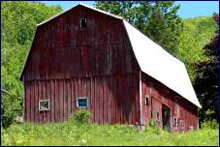 Some Iowa metro areas have been recognized as five-star communities: Cedar Rapids, Council Bluffs/Omana, Davenport, Des Moines, Iowa City and Waterloo. The metro areas offer excellent schools, superb public services and active and friendly communities while offering the amenities of larger cities. Cedar Rapids is also the second most kid-friendly city in the country. Thousands of acres of outdoor terrain accommodate nearly every form of sporting and recreational activity, from bicycling on or off-road to fresh-water fishing and golfing. The nightlife allows you to take in one of the many dynamic cultural events, including the ballet, opera, symphony or live theater. Education is highly regarded as indicated by several award-winning K-12 school districts in addition to the high-quality state universities, independent colleges and universities and community colleges.
Residents of Iowa experience all that four distinct seasons have to offer, from hot and humid summers, warm rainy springs, cold snowy winters and brilliant fall colors with cool days. These four seasons make Iowa perfect for hiking, canoeing, biking, cross-country skiing, boating and camping.
To learn more about specific communities in Iowa, request a Free Relocation Packet prepared by a HomeRoute Preferred™ local community expert. This exclusive guide will be customized to your specific home search and help you prepare for your upcoming move to Iowa.
Information provided courtesy of HomeRoute.