West Virginia - Real Estate
Move to West Virginia
Filled with mountains and forests, West Virginia features some of the most breath-taking views in the nation, from the Allegheny Highlands to the Potomac Eagle Scenic Railroad. The welcoming residents enjoy a clean environment, beautiful scenery and a low cost of living. Whether you settle down in one of the exciting cities or a relaxing rural town, West Virginia has a lot to offer its citizens!
West Virginia's affordability has drawn many new residents to this great state. Cost of living is 9 percent below the national average and housing costs are 21 percent below average, with the median home price around $92,000. Residents are taxed on federal adjusted gross income, within 5 income brackets ranging from 3 to 6.5 percent.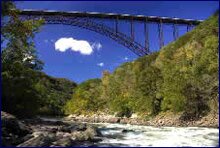 If you enjoy spectacular views for a great price, West Virginia is for you. Homes in West Virginia are available in all types of styles and sizes. You can purchase a three bedroom home for as little as $45,000 or as much as $300,000. Here you'll find a variety of housing choices including single family homes, duplexes, lots & land, investment properties, town homes and condominiums, new construction, lakefront, new development, modular homes, acreage, investment property, luxury homes and farm land.
West Virginia's economy relies on four main industries: coal production, manufacturing, agriculture and tourism. Leading second in the US for coal production and a manufacturing leader of steel, glass, aluminum and chemicals, West Virginia's residents have seen a slow but steady incline in their economy. Tourism is a billion dollar industry for "The Mountain State," with thousands of visitors annually, to view some of the nation's spectacular mountain ranges, plateaus, rivers, lakes and more.
West Virginia's regions feature fresh air, crystal blue lakes and lush vegetation. Tourists and residents alike enjoy the beautiful scenery and numerous outdoor activities including: hunting, fishing, hiking, biking, canoeing, camping, rafting and skiing. Charleston, the capital of West Virginia, is the largest city with about 50 thousand residents. With its small-town charm, many of its residents enjoy the view of the Appalachian Mountains and cultural centers such as the Clay Center for the Arts and Sciences and the State Capitol complex. Located on the Ohio River, Huntington is the state's coal center and home to Marshall University. Visit the East End Bridge, the Huntington Rose Garden and the Ritter Park Playground, a nationally award-winning playground.
West Virginia's climate is like that of the bordering states, here you'll experience four distinct seasons. In the southeastern part of the state, the high peaks of the Monongahela National Forest region give way to a colder climate. With almost 75 percent of the state blanketed with forests, residents are accustomed to the rugged terrain. The only state to be located entirely within the Appalachian Mountain range, a large part of West Virginia is protected state parks, recreation areas or state and national forests.
To learn more about specific communities in West Virginia, request a Free Relocation Packet prepared by a HomeRoute Preferred™ local community expert. This exclusive guide will be customized to your specific home search and help you prepare for your upcoming move to West Virginia.
Information provided courtesy of HomeRoute.