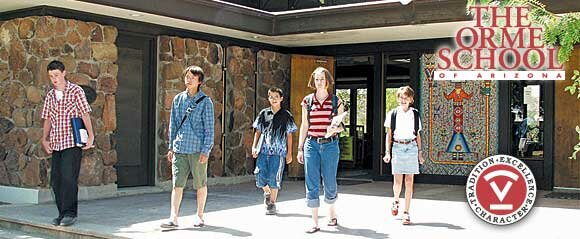 The Orme School.
The Orme School is a diverse, co-educational community for teachers and students who share a passion for academic excellence, outdoor adventure, and personal challenge. Located on a 40,000-acre ranch in the Arizona high country, Orme is convenient to Phoenix, Scottsdale, Prescott, Sedona, and Flagstaff.



The Orme School mission is based upon the values of Tradition, Excellence, and Character. College preparatory boarding and day school programs are for grades 7 through 12. Orme students achieve a 100 percent rate of college acceptance.

In 1929, Charles H. Orme, Sr. and Minna Vrang Orme began an adventure that became the history of The Orme School. They left their dairy farm in Phoenix and bought a ranch in central Arizona. Both graduates of Stanford University, they believed in the necessity of a good education, so they opened a one-room school for their three children and those of the ranch employees.

Orme today is an outstanding school enrolling approximately 150 students from numerous states and foreign countries. We offer Honors and Advanced Placement courses for exceptional students. The Learning/Reading Program provides individual and group support for students with learning differences. A strong financial aid program allows us to accept students from all economic backgrounds, creating a rich and varied community.


The open country surrounding the campus is the perfect laboratory for research in geology, biology, and ecology. The clear night sky is ideal for astronomy. Ancient ruins, petroglyphs, and remnants of early pioneer days make history, archeology, and anthropology come alive.
A member of the Arizona Interscholastic Association, Orme competes in cross country, track, football, volleyball, basketball, baseball, softball, rodeo, and tennis. Our athletic facilities are excellent.



A unique activity at Orme is the equestrian program, teaching riders at all levels, from beginner to international champion. Our equestrian curriculum includes Western and English riding, hunter jumper, dressage, gymkhana, roping, barrel racing, cutting, and other events.

At Orme, students explore the arts and humanities as a vital enrichment to their academic lives. The Fine Arts Department classes include sculpture, ceramics, painting, drawing, photography, choral arts, theater and more.

The Outdoor Leadership curriculum includes rock climbing, rappelling, hiking, mountain biking, orienteering, outdoor survival and first aid, and environmental education.

An education should expand and enrich a student's world. The Fine Arts Festival is held during one week each February. Workshops, many led by nationally-known artists, include paint, dance, poetry and song writing, theater, sculpture, creative writing, ironworking, and woodworking. Relatives and friends join at week's end for student performances.

Each May, the Caravan program provides students exposure to magnificent landscapes, diverse cultures, and the rich history of the American Southwest. Student experiences include the wonder of a sunrise at the Grand Canyon, the beauty of wildflowers, the thrill of shooting white-water rapids, and the joy that comes after a long hike or bike ride.

Graduates of The Orme School look back upon their years here as an experience of a lifetime. The values of Tradition, Excellence, and Character remain with them throughout their lives.
www.ormeschool.org • >