The Carroll School
25 Baker Bridge Road
Lincoln, MA 01773
781-259-8342
www.carrollschool.org
The Carroll School is the oldest independent day school in New England serving students with language-learning disabilities, such as dyslexia. Carroll is dedicated to meeting the educational needs of children diagnosed with primary language learning disabilities, and to supporting the constituencies that serve them. Carroll seeks a culturally, ethnically, and economically diverse population and is an active public champion for persons with learning disabilities.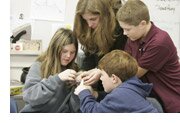 The school was founded in 1967 by Dr. Edwin Cole, a neurologist with the Massachusetts General Hospital, Samuel Lowe, and F. Gorham Brigham, Jr. Dr. Cole believed that methods developed by neurologist Samuel Orton and educator Anna Gillingham could respond to the needs of dyslexic children and founded Carroll to create a supportive environment in which the Orton-Gillingham approach was the primary focus of instruction.
Over the years the school's curriculum has been supplemented by programs that bring added dimension to the lives of students, including arts, music, drama, woodshop, and athletics. The "Bounders" program was inspired by the philosophy and activities of Outward Bound, giving students the opportunity to discover the challenges and rewards of working together as a group in demanding physical situations, helping them develop self-confidence.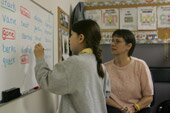 Carroll's approximately 240 elementary and middle school children come from over 75 communities. New to The Carroll School is the Beginning Readers Program offering phonemic awareness training in an integrated K-2 class. In addition, 160 students come to Carroll each summer to participate in our summer programs. The GIFTT Program (Garside Institute for Teacher Training) provides both on-site and off-site training and consultations for educators and school systems.
The Carroll School is accredited by the New England Association of Schools and Colleges and approved by the Massachusetts Department of Education as a Private Special Education School Program. The Carroll School and the GIFTT Program are accredited by the Academy of Orton-Gillingham Practitioners and Educators.
The School is located at 25 Baker Bridge Road, Lincoln, MA 01773. The main phone number is 781-259-8342; the School's website is www.carrollschool.org.