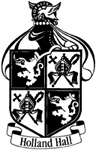 Educating, Nurturing and Empowering Students for Lifelong Learning
Finding the right fit for your child's education is crucial. Chuck and Leigh Lamson found the perfect partner in Holland Hall.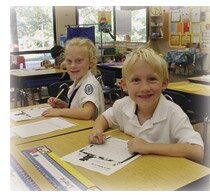 "The school was dedicated to us right from the start. They began building on our child's strengths, they appreciated and respected his individuality and started laying the foundation for a lifetime of learning," says Leigh.
"Holland Hall is a way of learning. It's a place where our children look forward to coming each day. It's a community of teachers and staff that work together to guide your child through the years."
The academic program features a modular schedule for the Upper School (Grades 9-12), an interdisciplinary program in the Middle School (Grades 4-8) and an integrated curriculum in the Primary School (Age 3 - Grade 3). The curriculum is enriched by creative electives, outdoor education, competitive athletic opportunities for all students, community service and a multitude of meaningful learning experiences.
Holland Hall's 162-acre wooded campus includes seven science labs, three libraries, three computer labs, 450 networked computers, an Upper School language lab, mobile wireless computer labs in the Primary and Middle Schools, the 18,000-square-foot Science, Mathematics and Technology Center and the 70,000-square-foot Walter Arts Center, which supports programs in music, drama, visual arts and dance.
Our children and their families forge a meaningful partnership with Holland Hall that results in a strong community united by the school's core values. Those values include intellectual and open inquiry; inspiring and innovative teaching; mental, physical and spiritual growth; trust, respect and partnership; appreciation of diversity; and responsibility to self and others.
To find out if Holland Hall's outstanding teachers, innovative curriculum, unparalleled facilities, and student-to-faculty ratio of 10:1, is right for your child, call 918-481-1111, email or visit www.hollandhall.org.
Holland Hall • 5666 E. 81st Street • Tulsa, OK 74137
918-481-1111 • http://www.hollandhall.org