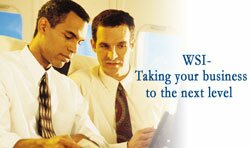 WSI INTERNET has made franchise history!
WSI INTERNET, Rated the "#1 Fastest Growing Business Services Franchise", is one of the most profitable Franchise Opportunities in the world today - With over 700 franchises in 87 countries!
Your Objective:
Using WSI INTERNET's proven Systems, your job is to help small-medium sized companies within your community profit from the Internet.
A High Demand Business:
These days, businesses need more than just a website. As websites become increasingly important, WSI INTERNET's Consultants help businesses utilize the power of the Internet to maximize profits and minimize business costs.
Home or Office Based / No Experience Required.
No specific business experience is required. WSI offers its Franchises "One of the most complete and comprehensive Training & Certification Programs available among franchise companies today", and a dynamic on-going Support Program custom tailored to meet the needs of each new franchisee.
The WSI Franchise System:
Our Franchisees (Internet Consultants) come from a wide range of backgrounds and age groups. Your job is to assess a client's business needs using WSI's patent-pending LifecycleTM System. Your client's Internet Solution is then independently built at one of WSI's low cost, high-tech Global Production Centers, which deliver results oriented, technologically advanced Internet Solutions at affordable costs. WSI's unique Client Support SystemTM provides you with an ongoing stream of recurring revenue from each and every client. WSI INTERNET's unique Client Support System™ provides you with an ongoing stream of reoccurring revenue from each and every client.
What our Franchise Owners have to say:
"The Internet…has such scope that I see everybody as a prospect. That's a huge opportunity. I really couldn't be happier with the WSI Franchise. I would do this over and over again."
R. A., USA
"I have been with WSI INTERNET Consulting for about 4 years. Some of the profits we're making are unheard of in any other type of market. It's something that's relatively inexpensive to get into…you don't even need to have an office. I'm glad I got involved [because] it's a great business."
N.B., Australia
For your FREE Information Package & CD, please Visit: http://www.wsicorporate.com