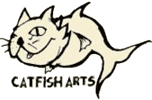 Welcome to Catfish Arts
You have come across a unique opportunity to have your pet created in clay by a master sculptor.
Simply send in some photos of your pet to allow me to created a three dimensional master piece for you to cherish for years to come.
"As an artist I try to work with you, the client, to get a true feeling of your pet. I have two styles to choose from "classic" and "animated". Combined with photographs, these help me to determine the character of your pet. The finished piece of work will be something you can keep and treasure for years to come.

No type of animal is too difficult. If you are unable to own your favorite pet, or your pet is deceased, don't hesitate to call. These are all problems we can get round, to own the sculpture that you desire."

Catherine Wilson Ceramic Artist.
All you need to do is send in 3-5 of your favorite photographs of your pet. I will make copies of all photographs and return them to you ASAP, since I know they are very precious. I will then produce a sculpture to the size you require. I take the size of each sculpture by measuring the back bone of the clay animal (that is from the top of the tail to the back of the head), this is to avoid any confusion regarding size regardless of whether the animal is sitting or standing.
This is a unique service which is a must if you love your pet.
Contact me
Wimbledon Art Studios
Studio 102
10 Riverside Yard
LONDON
SW17 0BB
Tel: 0(044) 7866417576
Email:
www.catfisharts.com