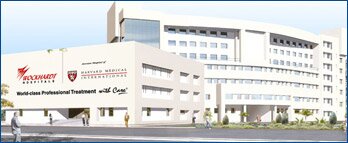 Click here to view our website
Contact us on or
WOCKHARDT HOSPITALS GROUP - ASSOCIATE HARVARD MEDICAL INTERNATIONAL
Wockhardt Hospitals Group has partnered with Harvard Medical International, USA, in establishing a chain of super speciality hospitals in India. With latest technology, multi-disciplinary capability, state of the art facilities, world class infrastructure and excellent patient care ambience and processes, Wockhardt Hospitals are now amongst the most advanced and progressive healthcare institutions in Asia.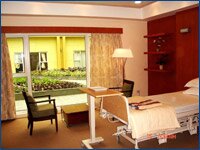 Wockhardt Hospitals, Mumbai, is the first superspeciality hospital in South Asia to achieve accreditation from Joint Commission International (JCI), USA. JCI is the gold standard in global healthcare standards. With this, Wockhardt Hospitals joins an exclusive group of 71 hospitals worldwide, which have passed JCI's stringent clinical quality standards. JCI is the international arm of the Joint Commission on Accreditation of Healthcare Organisations, which evaluates quality standards of US hospitals.
Wockhardt Hospitals at Bangalore and Mumbai are already a preferred destination for a large number of patients from UK, USA and our executive go to airport to receive patients at any hour. Deluxe private suites are equipped with Cable TV, Fridge, Computer with high speed internet, F&B and laundry service for the patient as well the companion. Overseas patients are looked after by specially trained nurses, and facilitated by guest relations executives for any special requirements like visa, shopping, tourism packages etc. all through their stay.
Procedure / Treatment
Wockhardt Hospitals, India ($)
USA ($)
UK (GBP)
Open Heart
Surgery (CABG)
7,500
100,000
21,400
Total Knee
Replacement
6,300
48,000
25,700
Hip Resurfacing
7,000
55,000
24,100
LA Hysterectomy
4,000
22,000
11,800
Lap Cholcystectomy
3,000
18,000
9,600
Spinal Decompression Fusion
5,500
60,000
32,100
Obesity Surgery
(Gastric Bypass)
9,500
65,000
34,800
WOCKHARDT BONE & JOINT HOSPITAL & HIP RESURFACING CENTRE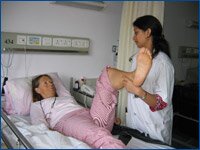 Superspecialty Hospital focused on Resurfacing Surgery, Hip, Knee Shoulder Joint replacements, Arthroscopic Minimal Invasive surgery, ligament repair, knee surgery, spine surgery and excellent support facility for physiotherapy and rehabilitation.
We are a Center of Excellence for Birmingham Hip Resurfacing Surgery and a number of US, UK patients have benefited from our expertise. Hip resurfacing is anatomically and bio-mechanically more similar to the natural hip joint resulting in increased stability, flexibility and range of motion.
WOCKHARDT HEART HOSPITALS
World class cardiac care with rich experience of over 25000 Cardiac surgeries. The Wockhardt Heart Hospitals are centers of excellence where comprehensive end-to-end cardiac care services are provided by best Cardiac Surgeons, Cardiologists and nursing Staff. With absorption of latest technological advances and commitment to highest ethical and management practices, our cardiac team has gained national and international recognition for their pioneering work in Cardiology and Cardio-thoracic surgery. It has to its credit the honour of being the first in the world to perform Awake Heart Bypass Surgery with Aortic Valve Replacement.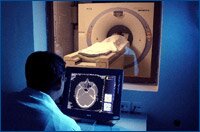 WOCKHARDT BRAIN & SPINE HOSPITAL
Provides comprehensive medical and surgical care for patients with disorders of the brain, spinal cord and peripheral nervous system. The latest techniques like Minimally invasive spine surgery, Expandable devices for Lumbar Spine Fusion are routinely carried out with results at par with the best centers globally.