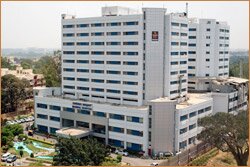 Services around the world are becoming more accessible with advancements in technology and communication, and so is healthcare! Today, traveling to another country for medical treatment has become convenient and accessible.
Manipal Hospital & Heart Foundation, situated on Airport Road in Bangalore, India, is a landmark destination for quality healthcare. Manipal Hospital renders some of the most sophisticated and specialized medical services in over 43 specialties. Being the flagship hospital of Manipal Health Systems, it includes such super-specialized institutions as Manipal Heart Foundation, Manipal Institute for Neurological Disorders, Manipal Institute of Nephrology and Urology and Manipal Hospital Diagnostic Services among others. The hospital has a warm ambience, with professional and dedicated doctors and over 1700 well-trained support staff working on some of the most sophisticated equipment to ensure well-being of all. Patients at Manipal Hospital are able to draw on the pool of expertise and skills of well-qualified consultants who work as a team to provide the best of care and treatment. In addition to the accessibility of specialist skills, the patients also have the quality assurance that the medical services are peer reviewed and medically audited. The hospital adheres to a fixed and transparent fee schedule. Many of our doctors have international affiliations with institutions across the world including UK and USA.
Manipal Hospital understands the cultural and linguistic needs of all patients – be it national or International. The Manipal International Patient Care Center is a service from India's first multi-specialty tertiary care hospital to be certified ISO 9001: 2000 by TUV Rhineland for all comprehensive protocols including Clinical, Nursing, Diagnostics and Allied Areas. It serves as a single window for high quality medical services and personalized attention with an assurance of a comfortable stay for both patients and their families. For years, the hospital has served a diverse group of patients - from overseas family members to visiting dignitaries and heads of state. Our professionally trained, multilingual staff works with you to meet your healthcare needs and make your stay in the hospital as comfortable as possible.
The team at the Manipal International Patient Care Center extends a full range of personalized services to international patients and their accompanying family members. At this one-stop service center, a dedicated team of professional Patient Care Coordinators ensure that every patient's visit is comfortable, pleasant and hassle-free. The International Center takes care of the minutest details, so you can focus on getting back to the best of your health.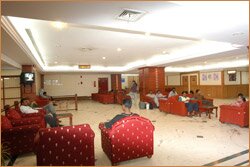 The highlight of South India's medical facilities and skills are in the areas of Cardiology, Cancer, Minimal Invasive Surgery, Joint Replacement, Kidney, Neuro Surgery, Plastic Surgery, Dental treatment and Pediatrics. State-of-the-art facilities coupled with significantly low treatment costs when compared to the West, makes medical tourism to Bangalore an ideal proposition.
Since 1990, Manipal Hospital has remained in the forefront of clinical excellence and academic pursuit. The philosophy at Manipal Hospital is to enrich and preserve, to inspire and be inspired by life.
Contact details:
Manipal Hospital International Patient Care Centre: +91-80-2502 3888 / 2502 3712
Manipal Hospital Fax Number: +91-80-2526 8912
Email: