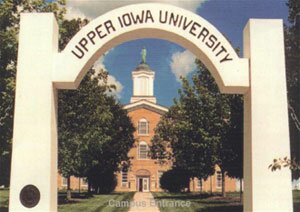 Upper Iowa University Online Program
1101 5th Street
West Des Moines, IA 50265
800-603-3756
515-369-7777

www.uiuonline.info
Program Focus: Founded in 1857, Upper Iowa University, a four-year liberal arts institution, is the largest private college in Iowa and offers quality degree programs to over 700 on-campus students and to over 5,500 center, online, and independent study students. In addition to UIU's main campus in northeast Iowa, there are additional on-ground learning centers in Iowa, Wisconsin, Kansas, and Louisiana. We also have learning centers in Hong Kong, Singapore, and Kuala Lumpur, Malaysia in addition to students worldwide taking classes through distance learning.
Upper Iowa's nationally regarded Online Program is noted for providing quality academics at reasonable tuition. UIU's online courses are discussion intensive, so you always have an opportunity to participate, ask questions, and explore course topics in depth with the instructor and classmates. Courses are designed to provide current, in-depth knowledge in the context of blending theory with application.
You will be able to connect to your class through the Internet to send and receive materials, anytime, anywhere, day or night. Unlike many other online programs, our course delivery software allows you access to class materials even when you are off-line. That means that you do not need to be connected to the course servers while doing your class work.
In UIU's Online Program you will interact asynchronously with your classmates and the instructor in course discussions, and individual and collaborative assignments. All courses are led by highly qualified and supportive faculty members who combine superior academic qualifications with real-world practitioner experience. 24/7/365 technical support is available by toll-free telephone, email, and within the course delivery software.
Duration: With an eight week class format for both undergraduate and graduate degrees, you can start any time throughout the year in any one of the six terms each year and complete your degree as quickly as possible.
UIU's liberal transfer policies generally will result in full credit for college-level courses from regionally accredited colleges and universities. Students can transfer lower division and upper division credits up to 90 Semester credits, subject to a limit of 78 lower division semester credits. Other sources of undergraduate credits include ACE, CLEP, DANTES and experiential learning.
You may transfer up to 12 semester credits for a master's degree from a regionally accredited university, provided that the course work is consistent with the curriculum of the MBA or MPA programs.
Certification/Degree: Associate Bachelor of Science with majors in: accounting, finance, criminal justice, human resources management, human services, management, marketing, psychology, public administration, health services administration, and emergency and disaster management.
Master of Business Administration degree (MBA) with six areas of emphasis: accounting, global business, human resources management, organizational development, corporate financial management and quality management.
Master of Public Administration Degree (MPA) with four areas of emphasis: Public Personnel Administration, Homeland Security, Justice Administration, and Health and Human Services.
The undergraduate Emergency and Disaster Management major and the MPA-Homeland Security are FEMA listed.
Visit with an advisor today! Call 800-603-3756, email us at , or go to www.uiuonline.info.
Are you a "real" school?
Upper Iowa University has its residential campus in Fayette, Iowa, and competes in NCAA Division II. Upper Iowa University is regionally accredited by the by The Higher Learning Commission and a member of the North Central Association. The MBA and undergraduate business degree programs offered in the Online Program are further accredited by the International Assembly for Collegiate Business Education (IACBE). The University is a member of the National Association of Schools of Public Affairs and Administration (NASPAA).
Do I have to attend campus to complete my degree?
No, you may complete your degree 100% through online courses. Of course, we hope you will come to Fayette for the graduation ceremony once you have completed your degree.
How much will it cost?
2007-08 tuition is $897 per online undergraduate course ($299 per credit); $1107 per online graduate course ($369 per credit). All classes are three credits each.
I'm not sure where to start?
We understand there are many considerations when beginning or returning to college. Our academic advisors are here to help answer questions and provide tentative evaluations of your transcripts (at no cost) as well as provide support throughout your degree completion. Contact us by phone at 800-603-3756 or email us at for assistance.