New York
A Place For Retirement Living In Small Towns With A Sense of Charm and Sophistication
New Yorkers desiring to spend their retirement years in their native state, especially those dreaming of a small, picturesque village in a scenic setting, are fortunate in that they perhaps have more options available to them in New York than in any other state. Granted, there are some qualifications about winter weather, and the number of new residential golf course resorts is somewhat limited compared to what one will find in Florida or the Carolinas. But if an idyllic, nostalgic glimpse of the historic American village defines your image of the perfect retirement spot, New York is definitely the right place to begin your search.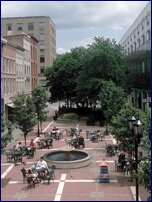 Residents of New York City need only travel a couple of hours up the Hudson River Valley and find several places like Cold Spring, a charming small town on the Hudson, just minutes from West Point. Complete with a historic waterfront, a Victorian band shell and spectacular river views, its Main Street is lined with antique shops, art galleries and restaurants. Outdoor lovers will find plenty to occupy their leisure time in the nearby mountains, which provide plenty of wooded trails for hiking and just roaming the scenic countryside. This original Hudson River town of about 2,800 people remains a robust and vibrant community and has been described as "overflowing with ageless elegance yet modern and fashionable enough for every generation."
Continuing up the River about seventy miles, one finds the Columbia County town of Hudson, a medium size village that has become something of a seasonal mecca for city dwellers heading to the country side to gather pumpkins and view the autumn leaves change colors. Recently cited by a national magazine as one of "America's ten coolest small towns," Hudson was discovered in the 1980's by a collection of antique dealers, who set up shop on Warren Street, a magnificent venue lined with beautiful Victorian-era architecture and which, today, boasts a number of exceptional restaurants and a variety of fine shops offering art, antiques, gourmet foods.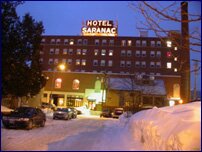 However, in terms of sheer natural scenic beauty, the Finger Lakes region of western New York may be the most enticing spot in the state for many retirees. Notwithstanding the brutal winter weather that often sweeps across this area from Lake Erie, the many small villages on the shores of these narrow bodies of water offer a unique and inviting setting that continues to attract both vacationers and new residents.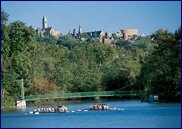 Perhaps more reflective of New England than New York, and reminiscent of a Norman Rockwell scene, the hamlet of Skaneateles sits on the north shore of Skaneateles Lake, a crystal clear body of water accented by the charming inns and restaurants that dot its shores. Downtown, there is an intriguing blend of Greek Revival and Victorian homes, nestled among appealing boutiques and specialty stores. Residents can take advantage of a wide array of year-round activities, ranging from outdoor ice skating to summer concerts at the village gazebo.
Just 25 miles from Skaneateles is another tiny village, Aurora, on the shores of Cayuga Lake. Some travel journalists have written that, with its charming and historic buildings set among a blanket of towering trees, Aurora could be a movie set. Although its commercial buildings and endeavors are limited, the presence of a dynamic small college has greatly enhanced the town's cultural spirit and adds much to its appeal as a retirement destination. The fact that the larger city of Syracuse is less than a half hour away gives residents of Aurora access to the amenities and facilities of a larger setting.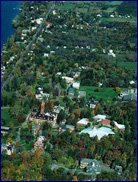 If the list of criteria for one's retirement choice includes being in or near a college town, Ithaca, a city of about 29,000 people located five hours from New York City, is a choice that one might be hard pressed to top. Also situated on Cayuga Lake, this laid-back and vibrant community is home to both Cornell University and Ithaca College. Its residents are justifiably proud of the pristine and beautiful setting of their city and utilize the outdoors for hiking, biking and a host of other recreational activities, both winter and summer. Adding to the attraction of the region is the growing number of wineries scattered throughout the Finger Lakes, all of which are readily accessible from the city.
In spite of its size, Ithaca has the feel and character of a very cosmopolitan town with of the advantages of a larger municipality, yet few of the problems. Its sense of energy and community growth resulted in its selection as the number one "emerging city" in the U.S. by Cities Ranked & Rated. Also, ten years ago, Ithaca was cited as one of the "ten most enlightened towns in America."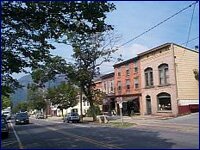 This narrative presents just a small sampling of the many possible retirement places that one can find in New York. Others that might be considered include notables such as Cooperstown, Woodstock, Watkins Glen, Saratoga, Seneca Falls, Saranac, Greenport and several more. One thing is certain…a journey to explore them all is certain to provide a great deal of fun and an exciting adventure.
Ithaca Photos Courtesy Ithaca CVB
For more information on finding your best places to retire, visit