Washington - The Olympic Peninsular - A great place to retire for retirees with a sense of adventure
For some, retirement is seen as a time to re-energize their lives and, possibly, an opportunity to embark on a new and different chapter in their lives. For such adventurous souls, the Olympic Peninsula, perched along the extreme northwest tip of Washington, may seem quite enticing, though for others not filled with this wanderlust, it may appear to be too remote and too far removed from their familiar surroundings.
This expansive stretch of towering forests and snow-covered mountain peaks features an eclectic array of small port towns and tourist villages that are collectively attracting a broad spectrum of retirees from across the U.S., drawn in search of an interesting and exciting lifestyle. Here, across the northern rim of the Peninsula, they have found an abundance of spectacular scenery and a seemingly endless array of outdoor recreational choices. Settling in such places as Port Townsend, Port Angeles and Sequim, these retirees have access to an exciting mix of cultural and recreational activities.
One of the more picturesque and interesting places to retire in the Peninsula is the historic port town of Port Townsend, an enclave with a collection of buildings noted for their Victorian architecture and with a people known for their independent spirit and artistic drive. Overlooking the Puget Sound and sitting in the shadow of the Olympic Mountains looming to the southwest, this historic port attracts newcomers drawn by the mild climate, scenic natural beauty and diversity of cultural activities and festivals.
By virtue of its location on the tip of a small peninsula, Port Townsend, to some, has the feel of island living, and it has been said that moving here requires an investment in a dream, but this dream comes with panoramic views of the Strait of Juan de Fuca, as well as the Olympic and Cascade mountain ranges. Here Victorian opulence merges with a maritime heritage and creates a certain romance and ambiance that has spawned a vibrant community of writers, musicians, artists. Although it has the feel of a "blue-jeans town", it also is notable for its high-brow events and well-traveled, educated population.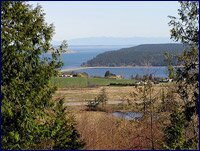 One of only three Victorian seaports in the U.S. on the National Historic Register, Port Townsend's historic downtown features a broad mix of unique shops, and its uptown section contains some of the best-preserved Victorian mansions in the country. This unique blending of the arts, architecture and sea-faring history results in an inviting and interesting place to retire for many.
There are several other small towns and communities located throughout the Peninsula that are becoming retirement destinations, as well as locations for upscale resort living. Sequim and Port Angeles, among others, are areas that have a reasonable cost of living and access to the outdoor lifestyle that is a hallmark of the quality of life enjoyed in this unique region.

Situated in the picturesque Dungeness Valley and nestled between the Olympic Mountains and the sea, Sequim offers small town charm with big city amenities, including active adult communities with golf course facilities. Its valley location has blessed it with almost ideal weather, a fact which makes it the envy of other coastal towns and all of Western Washington. In fact, in an article on retirement living, the Wall Street Journal noted that Sequim has only 18 inches of rainfall annually and added that such factors as the "sun, the mountains, the water, a plethora of services and programs for older adults…have turned unlikely Sequim into a serious force among United States retirement areas."
Port Angeles, the largest of the towns along the northern edge of the Peninsula with a population of more than 21,000, is considered by many to be another excellent place to retire. With an affordable cost of living, and an active program for seniors, the city is making a concerted effort to attract even more retirees as a way to boost to its continued economic growth.
For more information on the best places to retire, visit