Michigan - With an Array of Interesting and Unique Places To Retire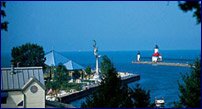 Given Michigan's reputation as a land of cold, harsh winter weather, it is safe to assume that it will never be a destination of choice for retirees desiring to live in a warmer, more hospitable climate normally associated with the Sun Belt states. While the number of seniors migrating to Michigan to spend their retirement years may be minimal, there are obviously substantial numbers, in fact the vast majority of Michigan residents, who, upon retirement, choose to remain here, either to take advantage of the affordable cost of living or remain close to family and friends.

Of course, there are many others who elect to forsake the ice and snow of winter and migrate to retirement choices where winters can be enjoyed on the golf courses or along ocean beaches. But for those who do elect to retire in Michigan, there are a number of highly desirable places to live.
In fact, in recognition of the tremendous demand for retirement living in Michigan, Del Webb Communities, the nation's largest developer of active adult communities, is building two new complexes in the State, Bridgewater, in the Brownstown Township south of the city, and Grand Reserve, in Grand Blanc, an hour's drive from Detroit, Ann Arbor and Lansing. Although only a small town of about 8,700 residents, Grand Blanc offers a wide variety of dining, shopping and entertainment and excellent medical care. Its quality lifestyle is further enhanced by several choice recreational facilities, including seven golf courses. Also, Sunrise Senior Living, a major operator of assisted living facilities has seventeen such residences located throughout Michigan.
With its expansive shore lines bordering the Great Lakes, Michigan is notable for a number of picturesque, small towns that are developing national recognition as being among some of the best places in the nation for retirement living. One such community, Holland, was recently named among the top five places to retire by Money Magazine. Situated on the shores of an inland lake that connects to Lake Michigan, Holland has, for many years, had a reputation throughout the mid-west as a summer resort, attracting beachgoers and sailing enthusiasts, but, in recent years has been drawing retirees, lured by its affordable housing and schedule of year-round recreational opportunities. One item of interest is that, to assist its 35,000 residents in combating the winter ice and snow, its streets and sidewalks are heated.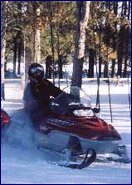 Besides Holland, there are several well-known beach towns in Western Michigan, such places as Benton Harbor, St. Joseph's and Muskegon, which, in addition to having miles of beaches, appeal to retirees because of their quaint residential neighborhoods, nearby golf courses, acres of scenic woodlands and inviting hospitality. A growing number of Michigan retirees, while maintaining winter homes in Sun Belt areas, return here each spring to be to reunite with their families and to enjoy summer and fall near the water.
Another popular recreational spot that is becoming increasingly popular as a golfing destination for both summer visitors and new retirees is Traverse City, which has been designated as one of the country's top golf destinations. But this area has much more to offer than just golf; its tremendous natural resources and beauty provides a wide spectrum of recreational opportunities that take full advantage of the water, woods, and snow.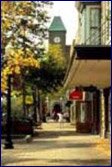 Retirees wishing a more urban setting might to consider the university settings found in Ann Arbor or Lansing, while others may find Grand Rapids, a major metropolitan area of more than 250,000 in Western Michigan, their best choice for a place to retire. A visit to the website for Grand Rapids Convention Bureau gives just a glimpse of the excitement and energy that is being created as this popular cultural and commercial hub continues to grow and develop. With a downtown area that has emerged as a vibrant residential and office community, here is a place for retirees who wish to enjoy retirement living in one of the more unique urban environments in Michigan.
Granted, retirement in Michigan may not be the right choice for everyone, but for those who are willing to look past the rigors of Winter, this is a State that has much to offer, especially for those who love a varied and interesting lifestyle and an affordable cost of living.
For more information on finding your best places to retire, visit