Wagner College, a four-year private college with a historical commitment to the liberal arts, is recognized today for its innovative curriculum and excellence in education. Set on a hill overlooking the Atlantic Ocean and New York Harbor, Wagner's 105-acre park-like campus is only a ferry ride away from the cultural, intellectual, and professional heart of America – Manhattan. For Wagner students, this ideal location means the difference between a typical college education and an educational experience filled with exceptional learning and exciting internship and career opportunities.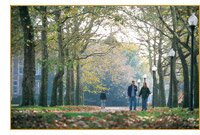 Wagner's curriculum, "The Wagner Plan for the Practical Liberal Arts", has been nationally recognized for the connections it makes across disciplines, among students and faculty, and between the classroom and the larger world. In the very first semester at Wagner, first-year students become involved in real-world problems and fieldwork directly related to their courses. In every major, a senior internship is guaranteed, providing every student with valuable real-world experience before graduation. At Wagner, students "learn by doing" through a challenging, broad-based liberal arts curriculum that is anchored in the real world. And Wagner has maintained the academic characteristics most often associated with excellence in education, including small class sizes and experienced professors who teach both introductory and upper-level courses.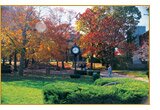 Wagner's innovative academic program is complemented by a full spectrum of student activities. The more than 60 student clubs and organizations on campus provide a diversity and abundance of experiences that not only enrich the undergraduate years but also serve to prepare students for the challenges of life after graduation.
As an NCAA Division I institution Wagner sponsors 22 men's and women's sports, including Division I-AA football. Intramural programs are abundant, and the College's sports and recreation center is designed to provide a state-of-the-art athletic environment for use by all students.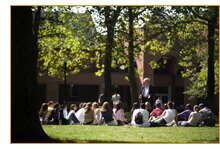 As you search for the right college, the Admissions Office at Wagner welcomes your questions. Come visit us and see for yourself why each year more students decide that Wagner College is the place for them.
In "America's Best Colleges," U.S. News & World Report consistently ranks Wagner College nationally in its "Programs to Look For".
Wagner College has been chosen as the recipient of the 2005 TIAA-CREF Theodore M. Hesburgh Award in recognition of the First Year Program.
In The Princeton Review's Best 357 Colleges 2005, Wagner's campus is ranked the "Most Beautiful" in the country.
Wagner College has been selected to join the Association of New American Colleges, Project Pericles, and Colleges of Distinction.
Wagner College's website address is www.wagner.edu