Where the river meets the bay in downtown Tampa is where tycoon Henry Plant built the opulent Tampa Bay Hotel in 1891. The hotel's Moorish minarets topped-off an interior of luxurious furnishings. Now a National Historic Landmark, the hotel is the Henry Plant Museum with all original hotel furnishings depicting the turn-of-the-century Victorian lifestyle.
Ybor City is Tampa's Latin Quarter and one of only three National Historic Landmark Districts in the state. Ybor City was founded when Cuban cigar factory owner Don Vincente Martinez Ybor moved his operation to Tampa in 1886. Other cigar manufacturers followed and soon "Mr. Ybor's City" became the "Cigar Capital of the World" with 12,000 "tabaqueros" rolling 700 million cigars a year in 200 factories. The cigar industry created a vivacious Latin community where Spaniards, Italians, Jews, Germans and Cubans worked and socialized together.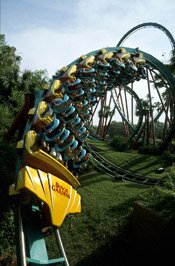 Ybor City's culture and heritage lives on through its brick streets, wrought-iron balconies and globe street lamps. Historic buildings have turned into trendy boutiques, coffeehouses and nightclubs. Often referred to as the "Nightlife Capital of Florida's West Coast," Ybor City nighttime festive atmosphere is created by thousands of revelers strolling in and out of chic restaurants and bars along 7th Avenue.
Busch Gardens, a 335-acre African-themed family entertainment park in Tampa, offers a wild time of a different kind. The park captures the true spirit of Africa bringing visitors up close to lions, hyenas, hippos, white rhinos, crocodiles, giraffes and zebras. Busch Gardens features two of the top steel roller coasters in the world and the largest and fastest dueling wooden coaster in the Southeast. New in 2005 is Sheikra, the first dive roller coaster in North America.
Tampa Bay visitors slow down by heading to the beach to sink their toes in the sand and soak up the sunshine. With a semi-tropical climate marked by an average temperature of 71 degrees, there's definitely plenty of sunshine here. And there's 35 miles of white, sugary sand lining the Tampa Bay region's coast along the Gulf of Mexico.
Tampa Bay offers a diverse selection of attractions, and enough diversions to keep visitors entertained for a weekend or a whole week. And with rich history, pristine nature, theme parks, beaches and a sizzling nightlife scene all in one waterfront destination, Tampa Bay is home to the best of everything that Florida has to offer.