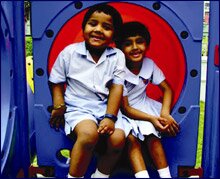 The latest buzz among the intelligentsia in the Kuala Lumpur these days is the unparalleled success of Global Indian International School and impact it has had in the field of International Schools.
Less than 10 weeks old and with close to 300 students on its rolls, GIIS has already been credited with bringing in the essence of Asian culture and western approach to schooling delivered to cross section of multiracial, multicultural students by an experienced team of hardworking and focused team of teachers.
Within a short span of time, students in the age group of 3-13 years have had a taste of wide range of Co curricular and Extra curricular Activities, not to mention camps and Excursions.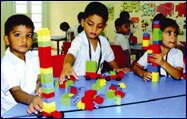 It is therefore not surprising at all that it is already attracted a host of dignitaries from Malaysia & India including Dato Seri Samyvellu, Minister of public works, the Indian High Commissioner Malaysia Mr.R.L. Naraylon, Mr. Ganguly, Chairman CBSE and Shri Vayalar Ravi, the Indian Minister for Overseas Indians.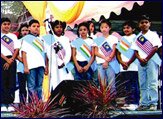 This brightly lit and tastefully constructed school located at Brickfields has a few Firsts to its credits. For example the values of honesty and trustworthiness that the school already seems to have brought in amongst the youngsters. This is evident from the policy of examination without invigilation which was successfully practiced at the first unit test. The principal Mr. Gopalkrishnan is a strong supporter of this system and says that he has successfully experimented with this in his earlier stints. Little wonder that when we met a beaming Mr. Atul Termunikar, chairman of global Indian international school, he was confident that GIIS KL will not only bring a fresh wind of change into the academic atmosphere of KL but will also contribute to the qualitative improvement and answerability of the international schools in the region.
Web: www.giismalaysia.org