Mercy Health partners, Cincinnati, Ohio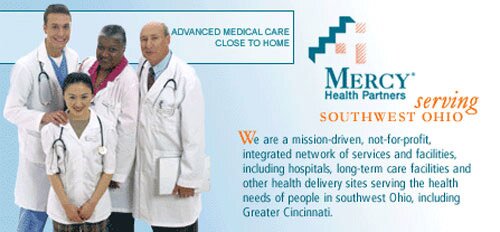 Advanced Medical Care, Close to Home.
Mercy hospitals and facilities offer you quality medical care provided by some of the area's finest physicians and experienced, compassionate nurses and healthcare professionals. Whether you need hospitalization, outpatient tests or emergency care, Mercy can meet your needs.
Our services* include:
Cardiovascular including open heart
Accredited cancer care programs
Nationally recognized orthopedic and joint replacement programs
Women's health centers and services
Obstetrics including UNICEF designated "baby-friendly" family birth centers
Behavioral health for children, adolescents, adults and seniors
24-hour emergency medicine
Imaging and radiology including 64-slice CT Scan and MRI-HD technology
Physical, occupational and speech therapy
Diabetes care and education
Senior health and housing
Social service agencies
Accredited home care program
Palliative care
Urgent care and travel health program
Mercy HealthPlex fitness centers
*Services vary by location
Mercy Health Partners is a thriving and dynamic organization guided by our Mission to extend the healing ministry of Jesus by improving the health of our communities with emphasis on people who are poor and under-served. The dedicated associates who work in our facilities bring that Mission to life every day.
Website: www.e-mercy.com
 
| | |
| --- | --- |
| page generation time:0.0658 | page last updated: 26-jun-2007 |