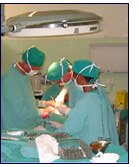 How do you judge a hospital? An institution that fixes you and solves your ills. A place that truly 'cares', in every sense of the word. How can you pick one over another?
Well, it isn't easy, and the truth is that ultimately, how comfortable you feel in the hospital is as good an indicator as any strict set of guidelines or tick-list you can prepare. Thankfully in the US we are blessed to have some of the finest medical facilities in the world, so you can't go far wrong. However, there are still some factors to take into account.
One of the regular patient complaints is the level of bureaucracy in hospitals. For your safety, it is unreasonable to expect no paperwork to reflect what you are being treated for, however, being saddled with reams of illogical and un-necessary sheets to sign is the last thing most people want to deal with in whatever situation they may find themselves in, whilst in the hospital. Whilst asking the hospital about their commitment to patient care, it is wise to ask them about how this is reflected in their paperwork. This will also have a direct effect on the quality of the communication you enjoy with your carers, so be sure to bring this up at the earliest possible opportunity.
Understandably, at the top of most people's list is the quality of the care and experts available. There should be a blend between the reputation the institution has for research and development, the expertise of the doctors and surgeons, and the care from the nurses. One of the few horror stories surrounding hospitals often relate to how patients have been cared for by nurses, despite undergoing superb surgical treatment and benefiting from superb rehabilitating surgery. Of course, these are few and far between, but they do demonstrate how it is just as important to interact with nurses and get a feel for the care you are likely to receive, as it is to study those certificates on the wall of your consultant's office.
The facilities are also of prime importance. Doctors, surgeons and all the various forms of therapists are reliant on technology to do their jobs to the best of their ability, and it is now essential that hospitals are equipped with state-of-the-art amenities.
There are more than 46 million Americans who are without a health insurance. A truly frightening statistic, which means that, for many, a trip to the hospital can lead to major financial hardship, especially if you have to undergo a major operation. However, fortunately this is not the case for the majority of the country, who are more concerned with the quality of the care they will receive or that their hospital that does not provide the services they're looking for. Thankfully, this is, in itself, not such a serious conundrum, as care in the US is of a very high standard. Furthermore, using rankings and accreditation (and of course, word of mouth), it is relatively simple to discern the best hospitals.
While it is not always possible to make an informed decision on finding a suitable hospital when in an emergency, it is always better to research the hospitals around your area, both online and using printed media, and keep a copy of the contact details at home so that you know where you would like to be admitted to incase of emergency and that you have a better understanding of all the paper work that needs to be filled once you're admitted into the hospital. Also, do lots of research on the insurance companies that fits best to your budget so that you won't be chased after collecting agencies or banks for when you have to pay the hospital bills.
The reputation and the standards of a hospital are usually based on the core of the hospital itself: the staff. A health care centre simply cannot exist without a good supply of well-trained health care workers. They have to be constantly up-to-date with the latest medical researches and discoveries so that the patients are able to place trust in them because patient care is the defining characteristic of an acuminous hospital.
A good hospital is when they are capable of providing immediate care, from skilled workers and technicians, who communicate clearly and comprehensibly, offering suitable attention to their outpatients combined with the capability to get things done right on the spot.
In order to put your mind at rest, here are some of the questions that you should ask yourself, when thinking about your medical care:
How close do you want to be to your home?
What type of hospital would you prefer (specialist, general...etc)
Do you have the right health insurance? Does the hospital recognize your insurance? What charges are not covered by your insurance company?
Do you have any recommendations from friends or family?
What do independent media articles say about the facility.
What are the hospital's credentials?
How are the customer services? Are they always able to provide sufficient information for their patients?
Do they provide follow-up check-ups or home-nursing services?
Is the waiting room and patient's room clean and comfortable?
And finally, it may sound obvious, but:
Have you visited their website?
Websites give an excellent taste for what to expect from any organization or facility and hospitals are no exception. You also get a taste for their philosophies, beliefs and methods of treatment to see if they fit with your own.
This may seem a lot of work, for a facility you may never need, but it is better to be prepared and after all…what price would you put on your health?