Client centered. Results-oriented
Coastal Commercial Real Estate, in Brunswick County, NC, is a full-service commercial realtor. We are a results-oriented company, bringing together buyers and sellers through our inter-disciplinary approach to commercial real estate transactions. We recognize that value and profitability are strategic partners for business success, and focus our efforts on finding the right location at the right price.
The Coastal Approach
Extensive knowledge of the business climate in the greater Brunswick, North Carolina region, as well as access to local, regional and national resources, gives our clients a distinct advantage when they want to maximize business success. Through Coastal Commercial, you can expect:
complete assessments of your unique requirements.
precise identification of properties with the greatest potential.
solid analyses and information on potential transactions.
Our multi-level approach translates into superior service, which creates value for your business.
Poised for success
The positive economic forecast for the Brunswick, North Carolina, region offers the best of both worlds for those seeking commercial space: a thriving business climate poised for unprecedented growth. This is a great opportunity for buyers and sellers.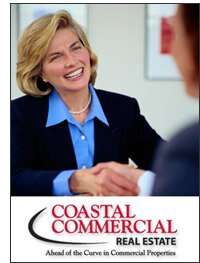 Coastal Commercial Real Estate offers a team approach for every client, and every commercial transaction:
expert knowledge of the area's commercial market
relevant information on land usage, town, county, state zoning, codes, corporate tax credits
strong marketing, locally, regionally and nationally
solid, accurate analysis of market values and area economic trends
professional property management
Business success starts with the right location. So whether you're buying or selling commercial property - stay ahead of the curve. Contact Coastal Commercial today at www.coastalcommercialnc.com Or call us at 800-910-8354.