The Shidler College of Business at the University of Hawaii at Manoa (UHM) prepares students to meet the challenges of the new global economy by instilling an understanding of current business practices and trends, an awareness of languages and cultures, and a comprehension of new technologies.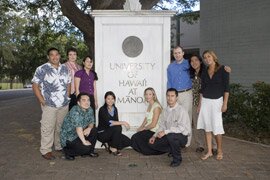 Long recognized for its Asia-Pacific perspective, the college has been ranked among the top 25 graduate programs for international business by US News & World Report for the past several years. The College offers a wide range of graduate programs including the Day MBA (full-time), Evening MBA (part-time), China International MBA, Japan-focused MBA, Vietnam Executive MBA, Executive MBA, Executive Neighbor Island MBA, Juris Doctorate/MBA, Joint MS in Nursing Administration/MBA, Master of Accounting, Master of Human Resource Management and PhD in International Management.
The MBA focuses on international business, entrepreneurship and the management of information systems technology. Students develop the analytical skills and judgment needed to make responsible management decisions. The program consists of 48 credits of course work, which for full-time students, takes two years to complete. Part-time students will take three years to complete the program.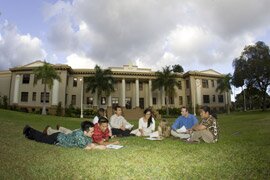 The MBA core curriculum challenges students to solve complex business problems in a multicultural environment, to apply strong analytical and strategic thinking to business issues, and to develop sophisticated management sills for effective global business leadership. Courses throughout the program are integrated via the study of specific companies or geographic regions through the first and second semesters or via a business plan framework where each course relates its content to a comprehensive business plan. The curriculum also features a unique Asia-Pacific focus.
Professional development courses in the first year offers students career advice, interaction with business leaders, leadership enhancement, networking, and opportunities to polish communication skills. Second year electives can be used to specialize in particular disciplines (e.g., finance, marketing) or topics (e.g., entrepreneurship, technology). A capstone course (which consists of consulting for a business, a thesis, or a research project) integrates all course learning.
MBA students are encouraged to take advantage of the many international study abroad opportunities, which range from two weeks to a semester. The College has a number of exchange agreements with well-known universities in Japan, Hong Kong, China, Singapore, Korea, Thailand, Philippines, and Europe. Students can also participate in the annual Business Plan competition, which offers cash prizes totaling $80,000.
The Internship and Career Services Office at the College of Business helps students find suitable full-time employment upon graduation. The office offers a range of services to enhance students' employment marketability including extensive on-campus interview programs, a career fair every semester and workshops designed around resume writing and interview techniques. The College also sponsors the "Business of the Week" program which brings companies on campus to hold presentations, interviews, and workshops.
Numerous merit and need-based scholarships and financial aid are available to entering and continuing students. Over $1.5 million in merit-based scholarships are available for the entering Fall 2007 MBA class. Scholarship Deadline is March 1, 2007.
Admission to the MBA and other graduate business programs is competitive and based upon grades, test scores, work experience and interests. For the most up-to-date program, admissions and scholarship information, please visit our website at www.shidler.hawaii.edu.