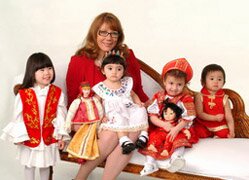 European Adoption Consultants, Inc. (EAC) is a licensed adoption agency located in the State of Ohio with regional offices across the United States.  EAC assists in the adoption of foreign children from Guatemala, Russia, China, Ukraine and Kazakhstan.  EAC offers pre and post adoption services to clients for international placements of legally orphaned or abandoned children. The first step is to call our EAC office at (800) 533- 0098 and ask for an information packet; another option is to check our website to locate an EAC adoption seminar in your area.  The EAC staff is committed to help you each step of the way.
We have completed more than 5000 adoptions in thirteen countries and we expect adoptions to continue moving quickly in the future. In addition to our experienced English-speaking staff in Russia, China, Kazakhstan, Guatemala, and Ukraine, we have a professional staff at our main office and in EAC's regional offices throughout the United States. Office hours are Monday through Thursday 9am to 10pm EST, Friday 9am to 7pm, Saturday and Sunday 8:30am to 4:30pm.
For more information please contact us at .
Our Address:
12608 Alameda Drive
Strongsville, OH 44149
www.eaci.com

Local (440) 237-3554 Toll Free (800) 533-0098
Fax (440) 237-6910