Where people connect.
Single and dating? Then you're invited to explore the possibilities at AmericanSingles.com, one of the largest and most popular membership-based online personals sites in the U.S. Our community is an easy comfortable, dynamic place to connect with interesting, relationship-minded men and women in your area for dating, networking, friendship and more.
AmericanSingles caters to smart, attractive, successful people, from all walks of life, all professions and all ages, making meeting people easier than ever. And with such a wonderful crowd, there's someone for everyone and that means you!
AmericanSingles offers:
A tradition of success. AmericanSingles' parent company, Spark Networks plc, is one of the one of the world's largest providers of online personals and has been helping people foster meaningful relationships since 1997. Today, online personals have become the modern way for singles to connect, and AmericanSingles is right there at the forefront with a wonderful success rate. Be sure to read real stories from our happy couples when you go to the site.

An amazing community. That you're invited to join! Get tapped into the dating scene without stepping foot in a bar or nightclub and meet singles who are living life to its fullest and looking to meet like-minded people to enjoy their active lifestyles with.

A new social circle. AmericanSingles lets you go outside your usual circle ' work, neighborhood, gym, grocery store, friends -- and opens a whole world of possibilities. Who knows? You may be walking past your soul mate every day and never even know it.

The ultimate singles spot at the ultimate price. AmericanSingles provides a much less expensive, safer and more interesting environment than most singles spots, especially the bar scene. It's free to join, and for the price of a few drinks, you can subscribe for a month and meet a new person every day if you like.

A clean, safe, secure environment. AmericanSingles' secure emailing system makes connecting online anonymous and safe, so you can sit back, relax and meet people from the comfort of home or office, any time of day or night.

Time-saving tools so you can find just the right person. Thanks to detailed profiles with photos, essays and all kinds of personal tidbits you can check out members before you email and get to know them before you meet. Plus, our unique searching system gives you a hand sifting through profiles to narrow down your options.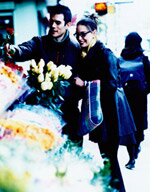 So if you're looking to have a great time, find a serious relationship, or if you're just back into the dating scene, AmericanSingles is the place for you. Take a peek at the people at your area today. After all, it is your scene!
Search. Explore. Enjoy.