THE AMERICAN UNIVERSITY OF LONDON
THE PIONEERS IN DISTANCE LEARNING SINCE 1984
The American University of London (AUOL) was founded in 1984 as the American College of Science & Technology. AUOL was incorporated independently as an Online and Distance Learning University. Currently the University has six schools: Business, IT, Law, Education & Liberal Arts, Humanities and English.

AUOL is fast becoming the acknowledged leader in Distance Education, with students benefiting from first class higher education without incurring the

 

prohibitive costs of accommodation, travel and other fees associated with residency -based programs.

As Professor Nimier sums it up; "We bring the university to you".

AUOL graduate distance learning programme intake has grown tenfold over the last few years, as continual advances in information and communications technology have removed any remaining geographical barriers.
Worldwide Reputation
AUOL has academic co-operation agreements, affiliations and representations with numerous colleges in the USA, Canada, Spain, Hungary, Argentina, Saudi Arabia, China, Malaysia, Taiwan, Iran, Sweden, Greece, Syria and many others.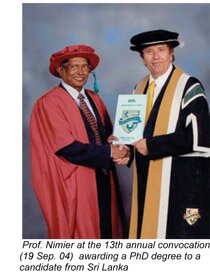 AUOL has alumni representing sixty-four different nationalities, the top five being the USA, Saudi Arabia, Malaysia, Spain and Argentina. The University is very proud of its alumni and the bond it has developed with them. Because they come from a wide variety of cultural backgrounds and academic endeavours, the alumni form a very dynamic and talented group.
Some graduates are recognized as leaders of industry, others are accomplished in the arts and sciences and many are known throughout healthcare, psychology, religion, higher education, teaching, and information technology. All share a common goal for the pursuit of excellence in their professional lives and a dedication to the betterment of the human condition.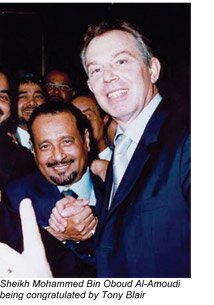 AUOL endeavours to follow its graduates in their achievements through a life long relationship. Employment changes, promotions, speaking engagements, entrepreneurial adventures and family developments are important events. AUOL is committed to keeping its graduates as an integral part of its University community.
Also, the University honours men and women of outstanding achievements throughout the world. As was the case recently with Sheikh Mohammed Bin Oboud Al-Amoudi one of the most prominent businessmen in Saudi Arabia who was awarded an Honorary doctorate by Professor Michael Nimier the President of the American University of London (AUOL), for his efforts in promoting Anglo-Saudi economic & business relations.
'Royal Visit' For AUOL Graduate
In addition to receiving the Honorary Doctorate, the Sheikh came to the UK with an investment portfolio estimated to be in excess of £ 250 million pounds. The honours did not end there, however, as Sheikh Mohammed was also invited to the state opening of Parliament, where he met her Majesty Queen Elizabeth II, the Right Honourable Tony Blair the British Prime Minister and Lord Ahmed of Rotherham.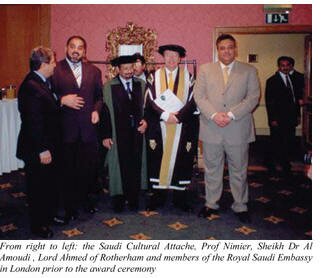 Private and independent institution
AUOL is a private international learning institution. It is not funded or controlled by any government. This gives the University the advantage of maintaining its independence and keeping its programme fees at a reasonable level.
The University's academic staffs are highly qualified and experienced. They are accustomed to working with executives, managers and consultants employed in both the private and public sectors. They are all graduates from a variety of universities and as a team provide the American University of London with the expertise to offer all applicants the qualified instruction, appraisal and recognition they are entitled to.
Accredited in the USA
AUOL is a private independent University and, in common with most universities exclusively involved in Distance Learning education (Open universities), has sought and obtained accreditation from agencies specializing primarily in distance learning, such as the well known Association Of Distance Learning Programs ADLP of Washington DC.

Additionally, AUOL has also obtained accreditation from the highly regarded private American agency: the National Academy Of Higher Education NAHE, (whose accreditation is widely accepted in The USA and Canada). AUOL graduates are

 

 
eligible to apply for an Educational Equivalency Certificate from NAHE which recognizes AUOL as the equivalent to any regionally or nationally accredited college or university in the US.

In the UK, AUOL is recognized as an accredited provider of further higher education for assessing and awarding professional degrees by the Commission for Continuous Learning-UK. Since it's founding in 1984 degrees conferred by the American University of London have been internationally recognized and accepted by governments, multinational companies as well as by colleges and universities for further study.
Website:www.americanuniversity.org.uk
The International Distance
Learning Centre, 2 Old Brompton Rd.,
London, SW7 3DQ
Fax: +00-44 (0) 20 7581 4445
Tel: + 00-44 (1494) 730 571