The Mercer University Walter F. George School of Law is one of the oldest law schools in the country, founded in 1873, and among the earliest ABA-approved law schools, gaining accreditation in 1925. The Law School occupies its own campus in the heart of Macon's historic district, housed in a beautiful 90,000-square-foot facility that is a replica of Philadelphia's Independence Hall.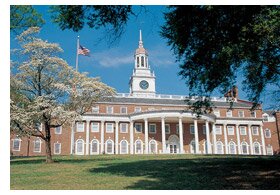 The Law School's relatively small size and accessible faculty and staff create a supportive environment for an innovative and challenging legal education. The Law School's faculty are accomplished scholars, leaders within their respective fields, and regularly receive excellent evaluations for their teaching skills. Mercer's Woodruff Curriculum provides a comprehensive approach to teaching practical skills and professional ethics, emphasizing small classes, a progression in the course of study, and a unique sixth semester designed to facilitate the transition from student to lawyer.
Mercer's Legal Writing Program was ranked number one by U.S. News and World Report in 2005. Students take research and writing courses during at least four of the six semesters of law study. Mercer is the only law school in the nation to offer a Certificate in Advanced Legal Writing, Research, and Drafting, designed especially for students who want to hone their research and writing skills beyond the already rigorous required research and writing curriculum. The school is home to The Legal Writing Institute,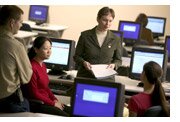 Mercer also houses The Center for Ethics and Legal Professionalism. First-year students take a course in professionalism, in addition to the advanced legal ethics course. Students in the first-year course learn about what "professionalism" means for lawyers and why it matters. The course and Professor Pat Longan were honored in 2005 with the National Award for Excellence and Innovation in Teaching Professionalism by the American Bar Association Standing Committee on Professionalism, the National Conference of Chief Justices, and the Burge Endowment for Law & Ethics.

The Law School has fully incorporated technology into its educational mission and was included in National Jurist's 2004 Technology Honor Roll, ranking eleventh. Every entering student is provided a notebook computer that is his or hers to use during the three years of Law School and after, if desired. The classrooms are equipped with up-to-date technology, as is the Law School's courtroom.
The strength of Mercer's educational program is matched by a long-standing belief in enrolling the most qualified students, regardless of financial circumstances. The Law School awards more than $2 million annually to students whose academic records, LSAT scores, and personal accomplishments demonstrate their potential for success. Graduates join other notable alumni, including Judge Griffin B. Bell, '48, former Attorney General of the United States; Cathy Cox, '86, Georgia Secretary of State, the first woman elected to that position; The Honorable Yvette Miller, '80, Judge of the Georgia Court of Appeals, the first African-American woman on the Court; and Nancy Grace, '84, television anchor and host of a nightly, prime-time program on the Headline News network.
Web site: www.law.mercer.edu