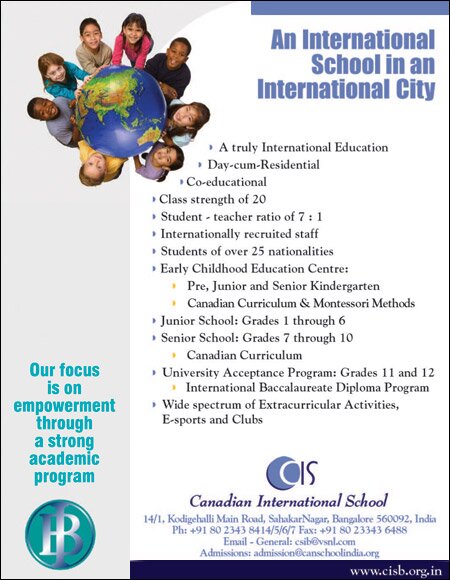 Web: www.cisb.org.in
Canadian International School, in Bangalore, India provides an outstanding learning experience to mainly expatriate and Indian students, representing over 25 nationalities from Pre indergarten to Grade 12. Guided by experienced teachers from Canada, UK, USA & Australia, students reach their full potential in a caring, child-centered environment. The school is ccredited by the International Baccalaureate Organization and Ontario Ministry of Education, Canada and is a member of the Council of International Schools.
This day-cum-residential, co-educational school admits students of sound academic ability on a continuous enrolment basis and offers the IB Diploma program at grade11 and 12. The school's
Extracurricular activities and clubs range from music and horseback riding to extreme sports and Junior Rotarians.
The school will be moving to a new purpose-built facility on 8 hectares of land adjacent to major transport routes and the new international airport. 14/1, Kodigehalli Main Road, SahakarNagar, Bangalore 560092, India Ph: +91 80 2343 8414/5/6/7 Fax: +91 80 23343 6488. Email - General: [email protected] Admissions: