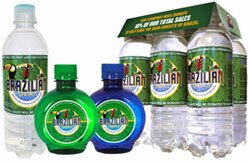 Ecostreams International brings you Brazilian Springs Bottled Water, the worlds purest, healthiest, and first eco-friendly water. Ecostreams' Brazilian Springs Water is part of the fastest growing business segments in America! With the help of Brazilian Springs products, we have mastered every aspect of the "specialty water" business so that you can profit from this $15 billion+ industry immediately. We are on a mission to save the rain forest, 10% from each purchase goes to save the rain forest of Brazil. Ecostreams International is exclusively licensed to import and distribute this unique water around the world. We are already sold in many Walgreens and Whole Food Stores...
If this sounds like the ideal opportunity for you, investing in Brazilian Springs Water can start as low as under $10K. Prime locations are still available on a first call basis so don't delay! Read more to learn why we think you should start your new business venture with the best there is, Brazilian Springs Water, the worlds purest, healthiest, and first eco-friendly water.
ABSOLUTELY NO ONE ELSE IS OFFERING THIS PRODUCT
BRAZILIAN SPRINGS is collected and bottled for us by the good people at EMPRESA DE ÁGUAS OURO FINO (OURO FINO) from one of the largest natural spring water aquifers on earth. Located in the rain forest covered mountains to the west of Curitiba, this spring source has provided the best tasting water in all of Brazil since it's discovery in 1946.
We always like to emphasize that we bottle only 100% clear natural spring water under the BRAZILIAN SPRINGS brand name. We don´t come from a hose (as we call water secured from municipal source processed by reverse osmosis methods) nor are there any added minerals or elements. Our water is gently filtered by nature to provide you with one of the finest natural spring waters available. And you'll note that our water has the quality and safety seal of approval from the NSF certification labs of Ann Arbor, Michigan. World renowned for their stringent qualification guidelines, the NSF lab stamp is required by the U.S. Military for any water supplied to our troops. You can depend on the quality of BRAZILIAN SPRINGS brand of bottled water for you and your family, guided by the NSF seal. The requirements of the NSF seal are far more severe than even the FDA so you can be assured of the quality and safety of the water bottled under the BRAZILIAN SPRINGS brand name. Our process includes a series of approved filtration systems and continual taste testing stations to provide you with the very best quality, always.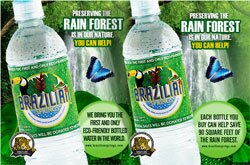 Brazilian Springs is donating 10% of our TOTAL GROSS SALES to help save the threatened rain forest of Brazil. The loss of these rain forests would not only impact the local communities of Brazil, but the world as a whole, as the Brazilian Rain Forest supplies 25 % of the world's oxygen.
This grand opportunity is available in the U.S, Canada and in all international countries.
Ready to take control of your future?
Please fill out the Request Form below.